We decided to squeeze in one more trip before school started, so in between Jump Start Day on August 7th and the first day of school on August 14th, we drove north to explore the real Northern California. We had a campsite reserved at Prairie Creek Redwoods State Park, but since it's quite a ways north, we decided to drive only part of the way and do a little sightseeing. First though, we had to get through the incredibly smokey area near Ukiah due to the Mendocino Complex Fire. It was a huge fire: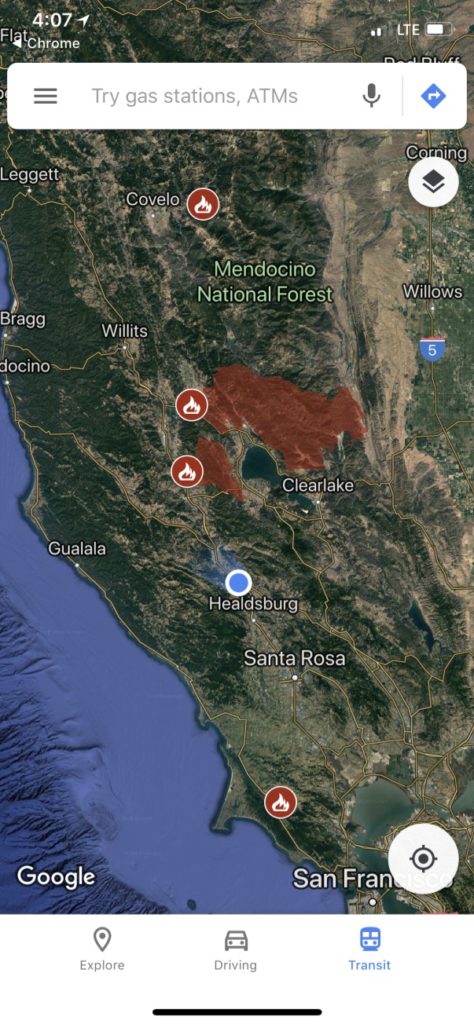 We stopped in Ukiah for lunch and saw a massive tent city set up for the firefighters who had come from all over the state to fight the fire.
After lunch we hopped back on the road and eventually got out of the smoke. We decided to take the scenic route at one point, veering off the main highway onto Avenue of the Giants near Humboldt Redwoods State Park. Absolutely gorgeous. We also decided to stop for one of those "drive your car through a redwood" attractions. I'll let you see for yourself how well that went:
We finally did get through the tree with one broken mirror, and we spent some time hanging out in the play area. The boys (all three of them) enjoyed trying to balance on a log.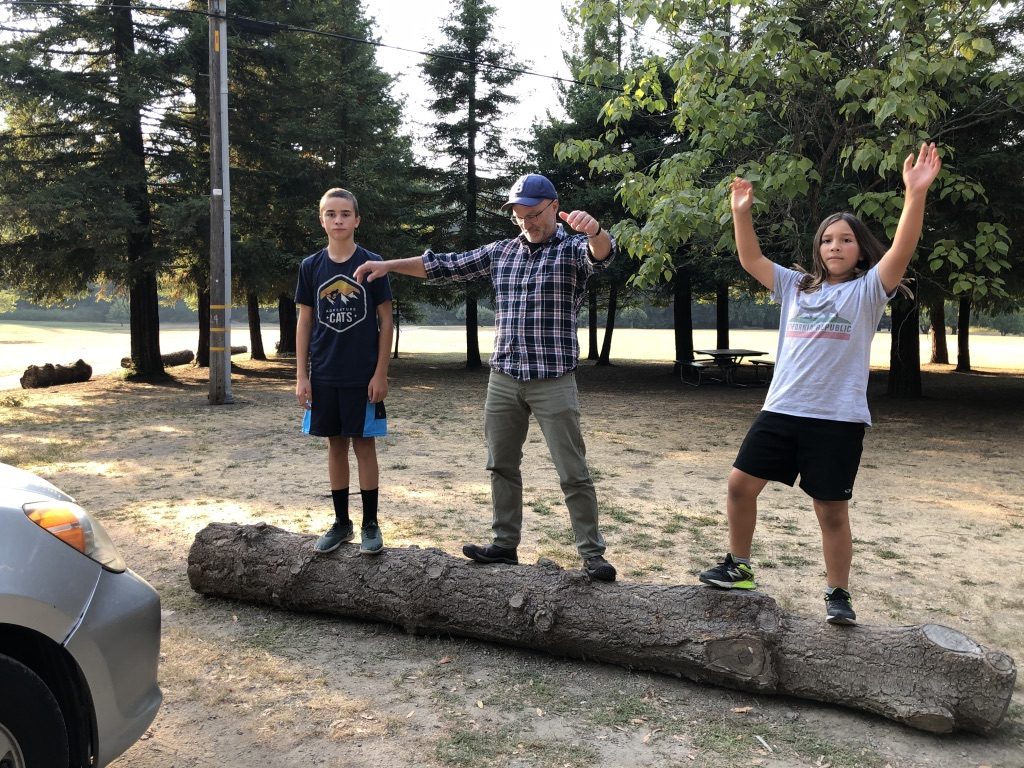 After that adventure, we drove another hour or so to a mostly uninhabited day campground near the South Fork Eel River. We walked from the parking area to the river, and spent some time skipping rocks and enjoying the scenery.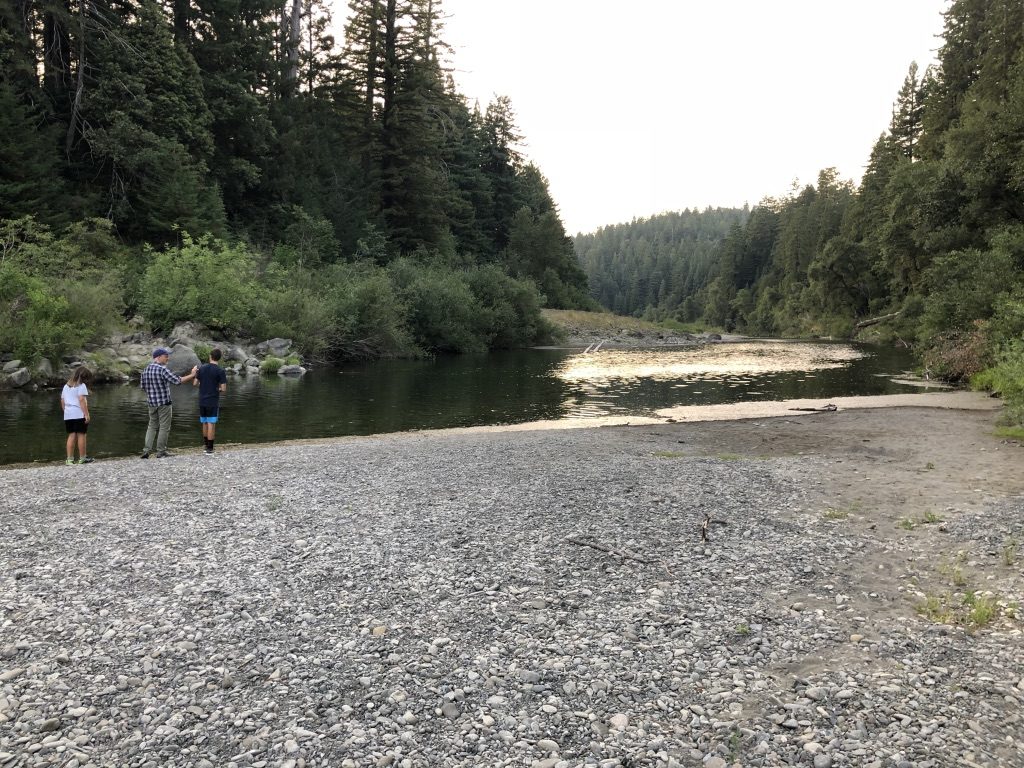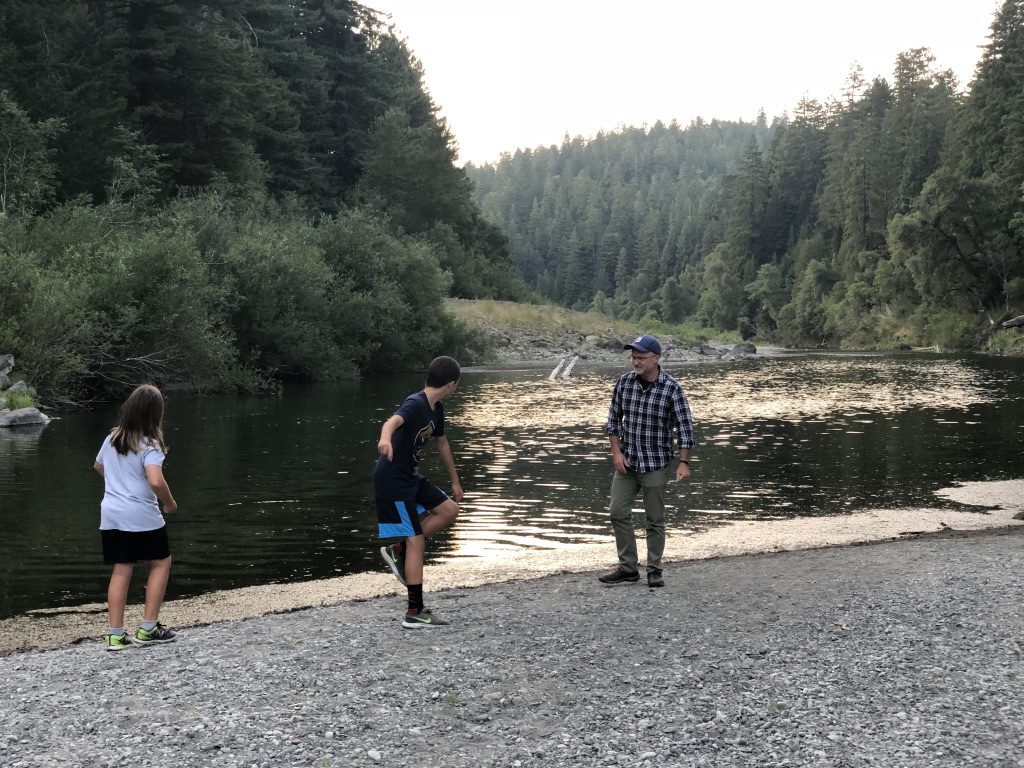 We finally reached our first day destination, the Best Western in Eureka, and had a good night's sleep. In the morning, it was chilly and foggy but we set out on foot to find breakfast. It was a little tough because Finn had just had his braces put on two days earlier and he was really suffering and mostly unable to chew. I can't remember exactly, but I think he had a smoothie of sorts. Poor kid.
We walked around Eureka for a while taking in the early California architecture … and a chocolate shop!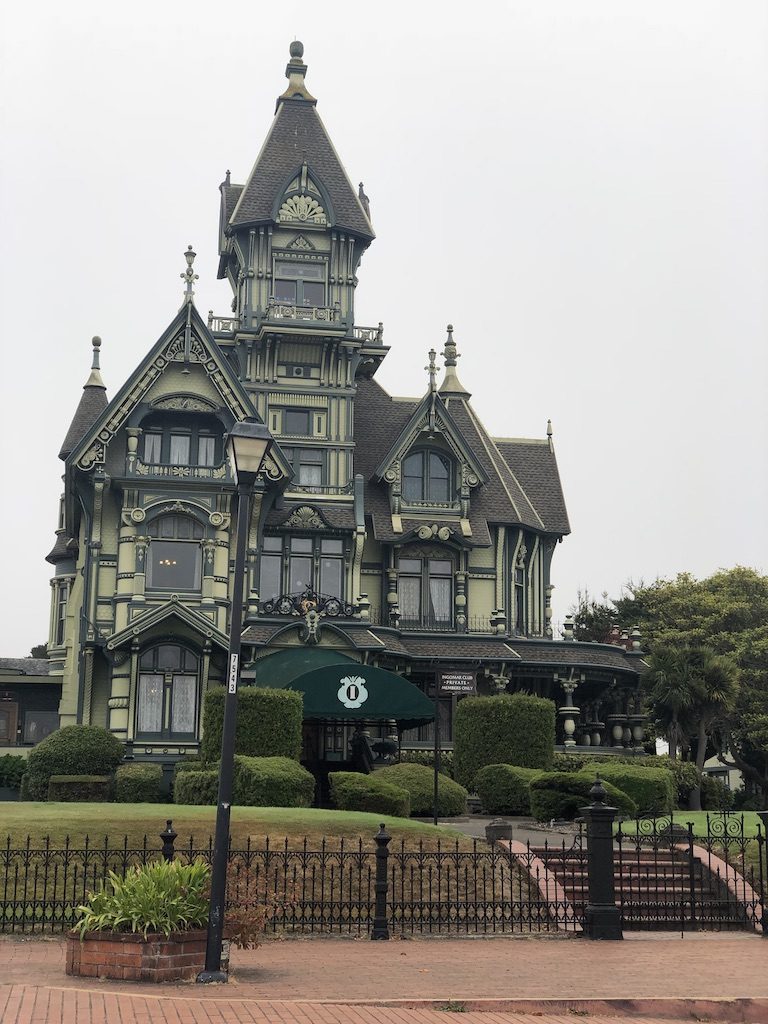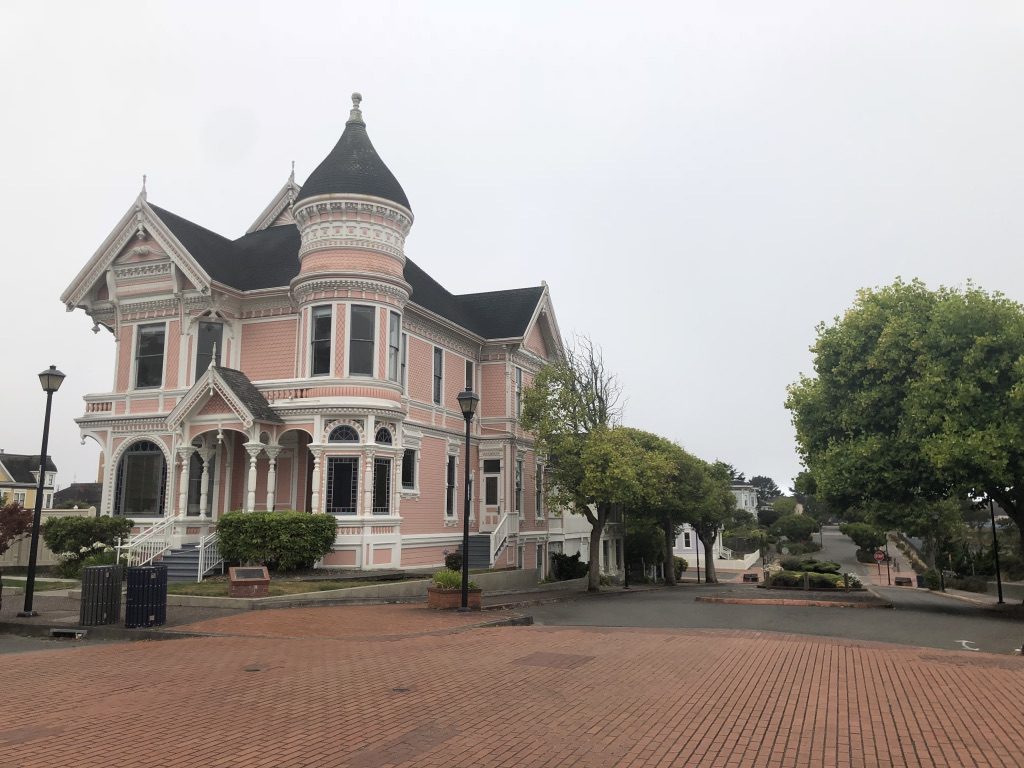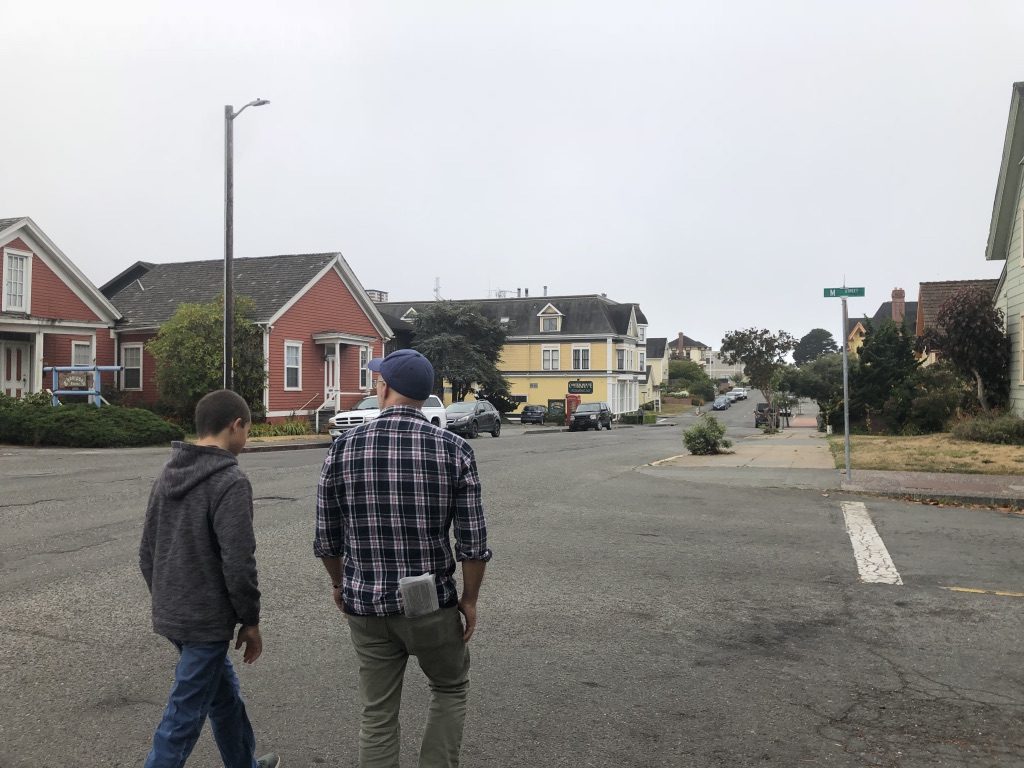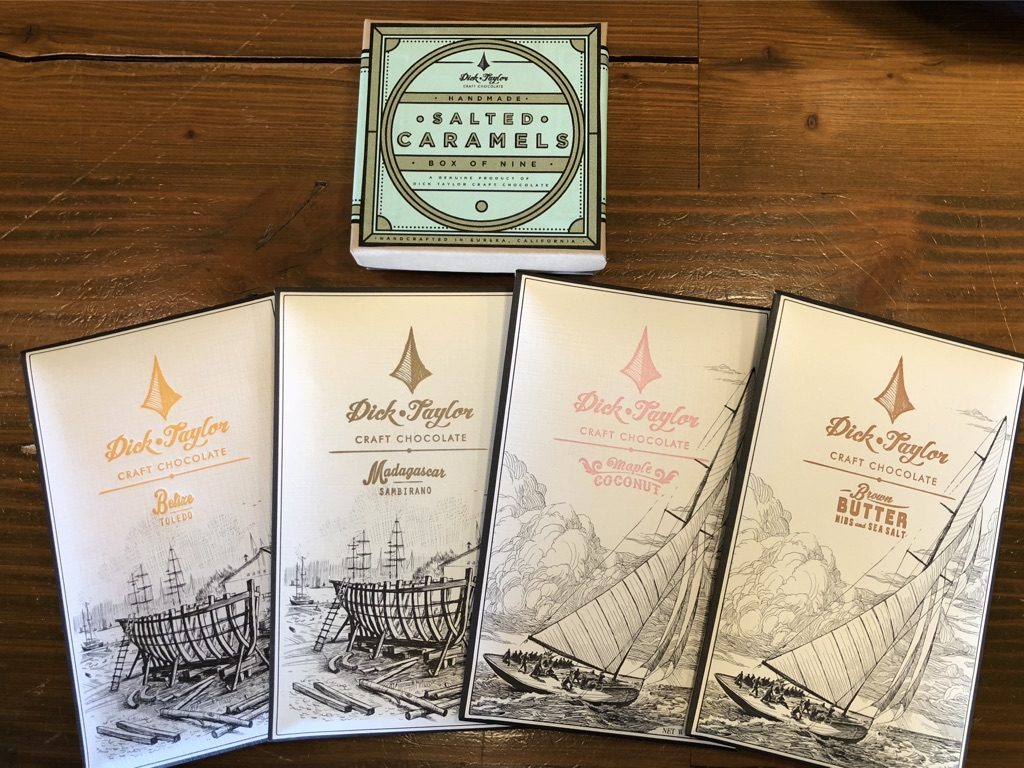 After breakfast and the short tour, we loaded up the car again and headed north. We made one more stop along the way at Patricks Point State Park, where it was foggy and cold, but everyone had a good time playing on the beach.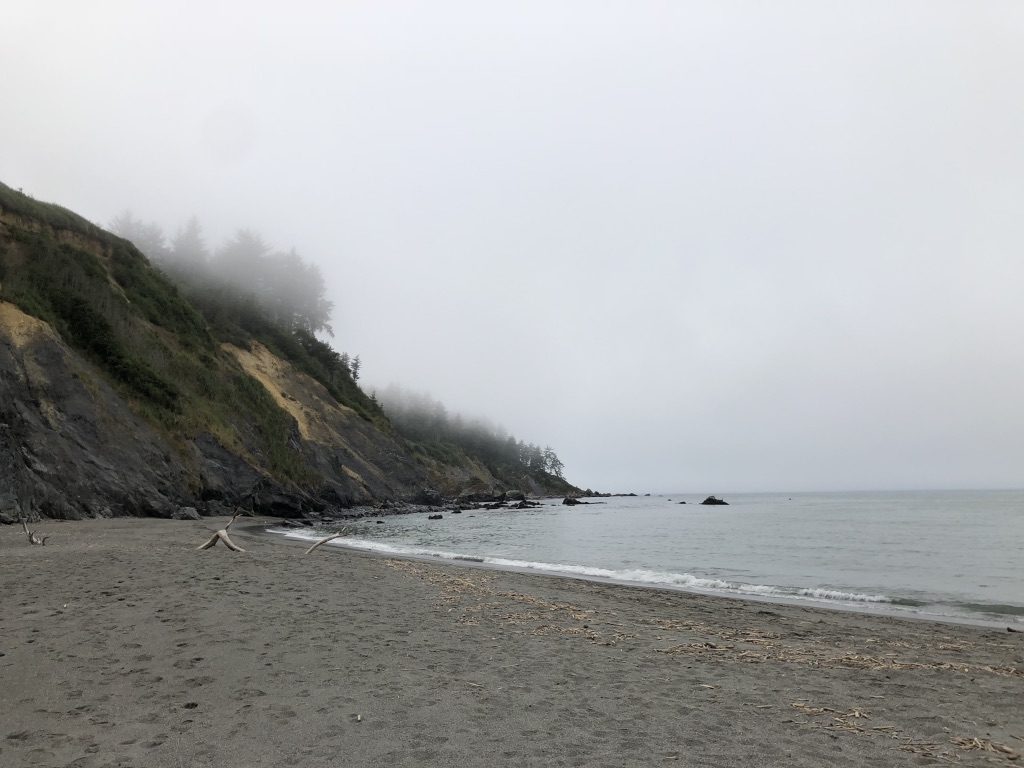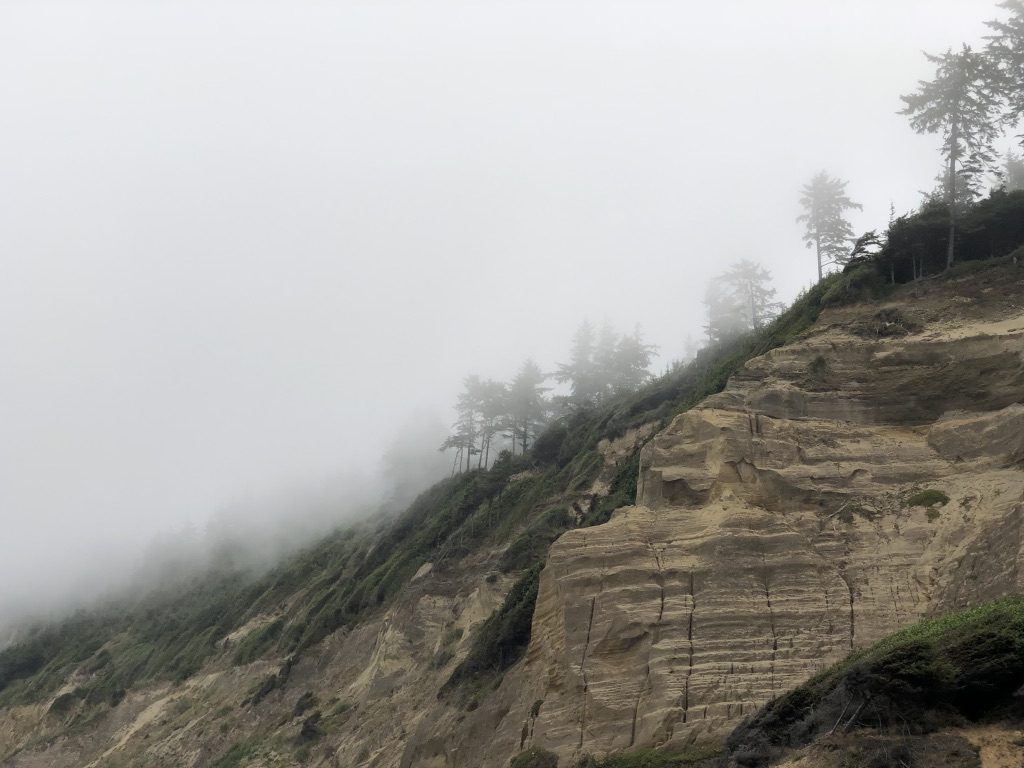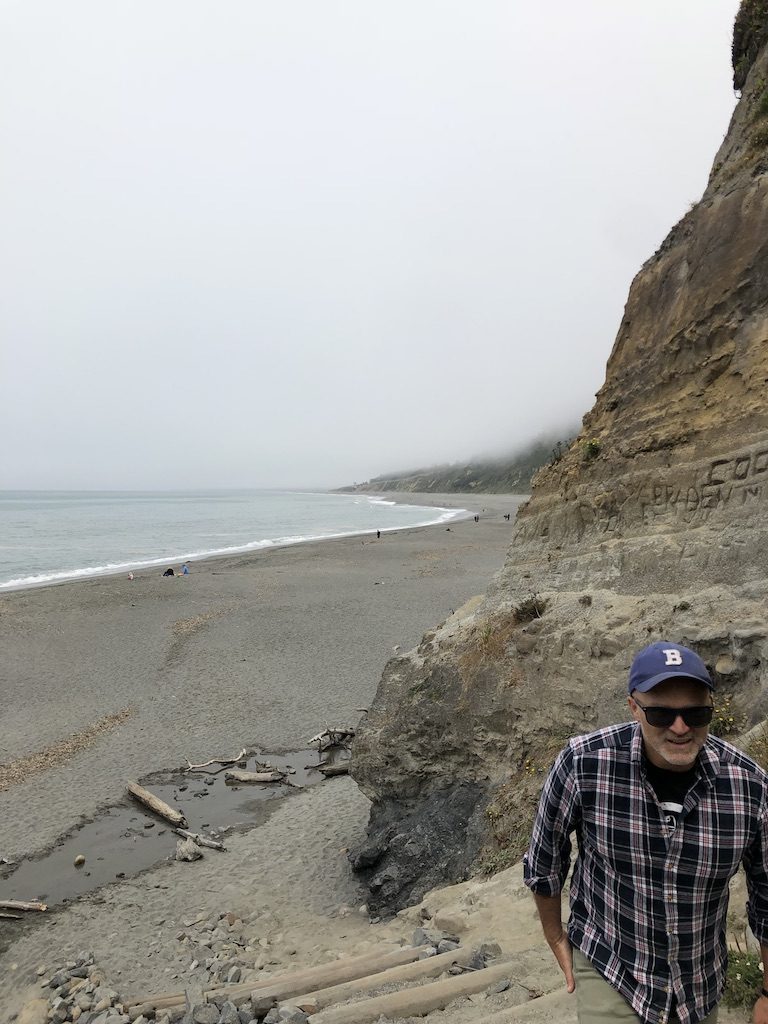 After Patricks Point, it was just about an hour and a half drive to our campsite at Prairie Creek Redwoods State Park. When we drove in we were stunned to see a bunch of elk casually lounging around. (At the time, we didn't know if this was a daily occurrence or really out of the ordinary. Over the next few days, we never saw them in the campground again, so we felt pretty lucky to have caught them when we did.)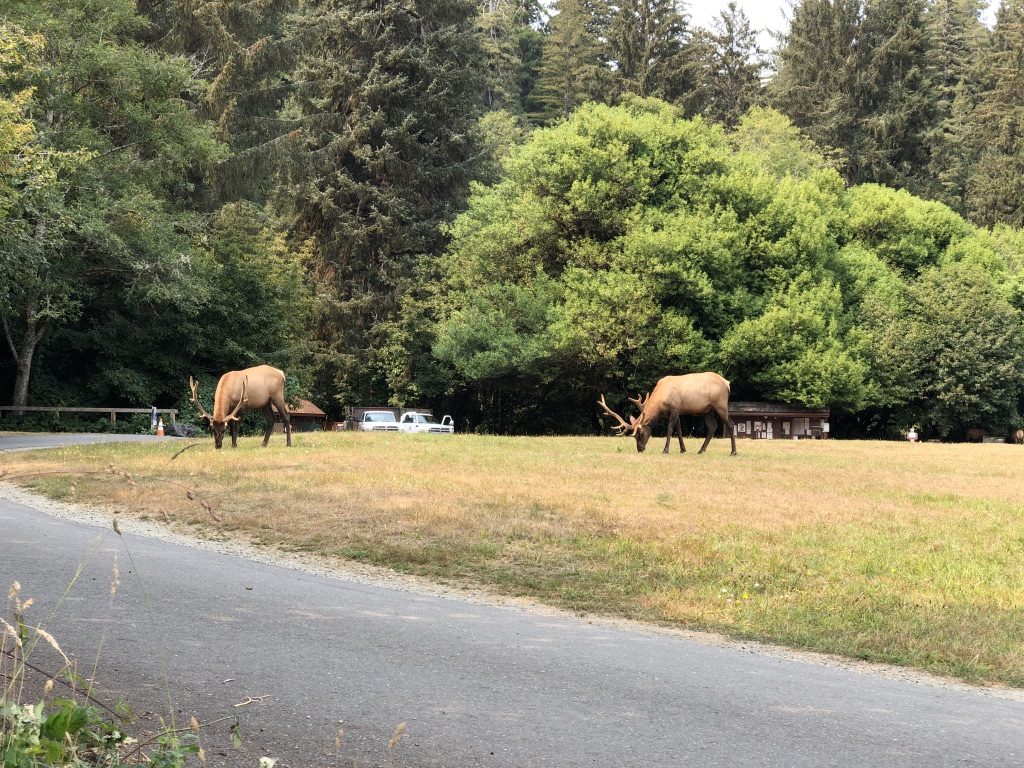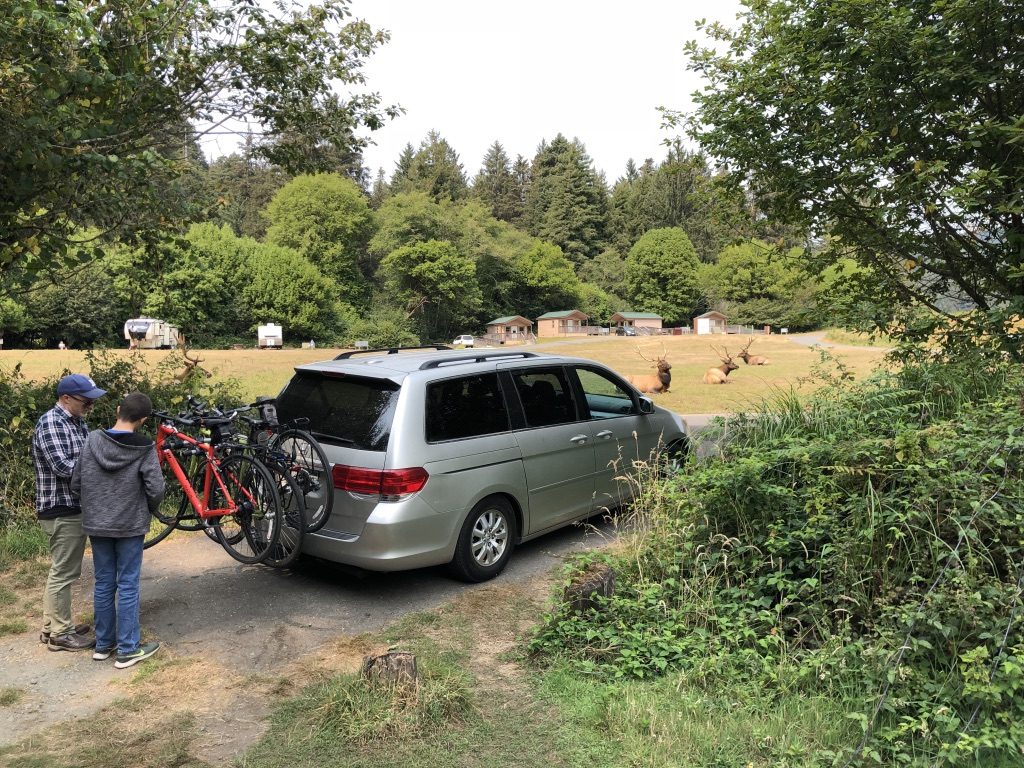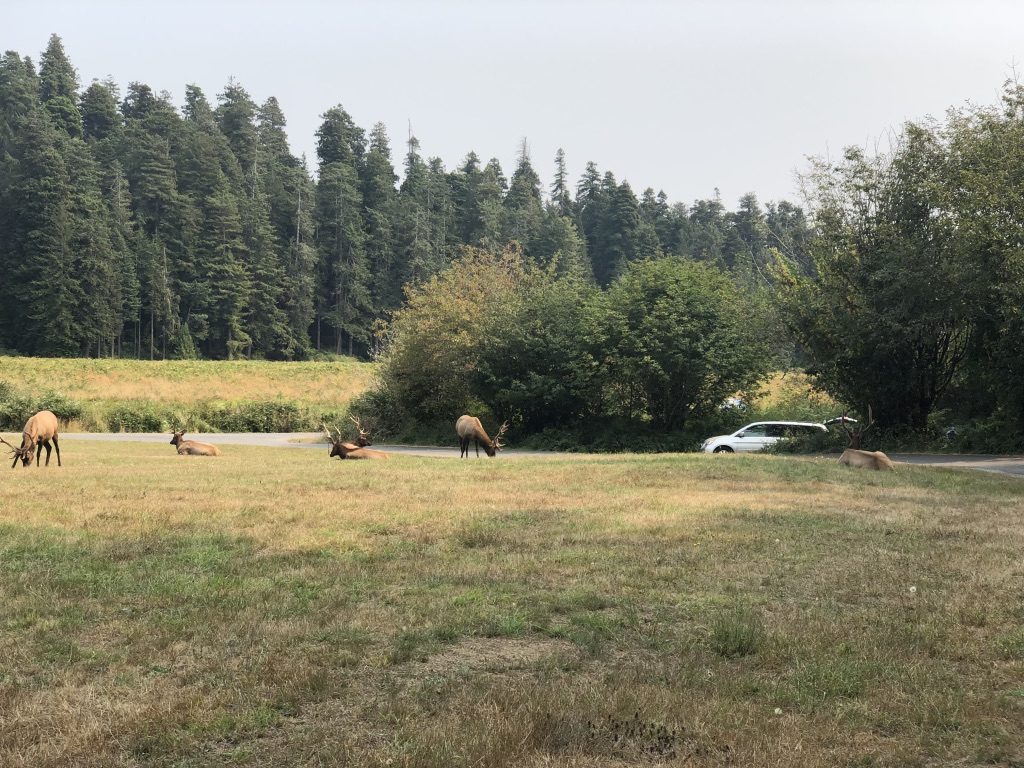 One of the first things on the to-do list (after trying out the chocolate we'd bought in Eureka) was fixing the broken mirror. Bruce had bought some supplies at a Eureka hardware store and promptly got the mirror glued and clamped.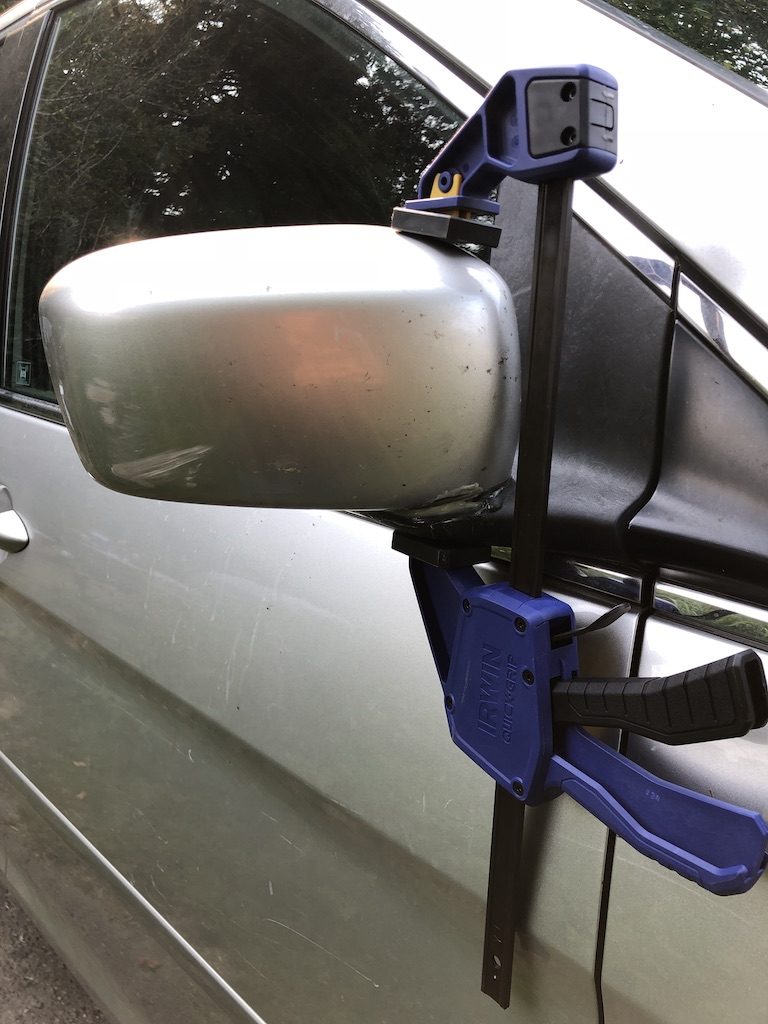 The rest of the day was mostly spent getting the campsite ready, having dinner, and a little light exploring. Here's Bruce at Prairie Creek: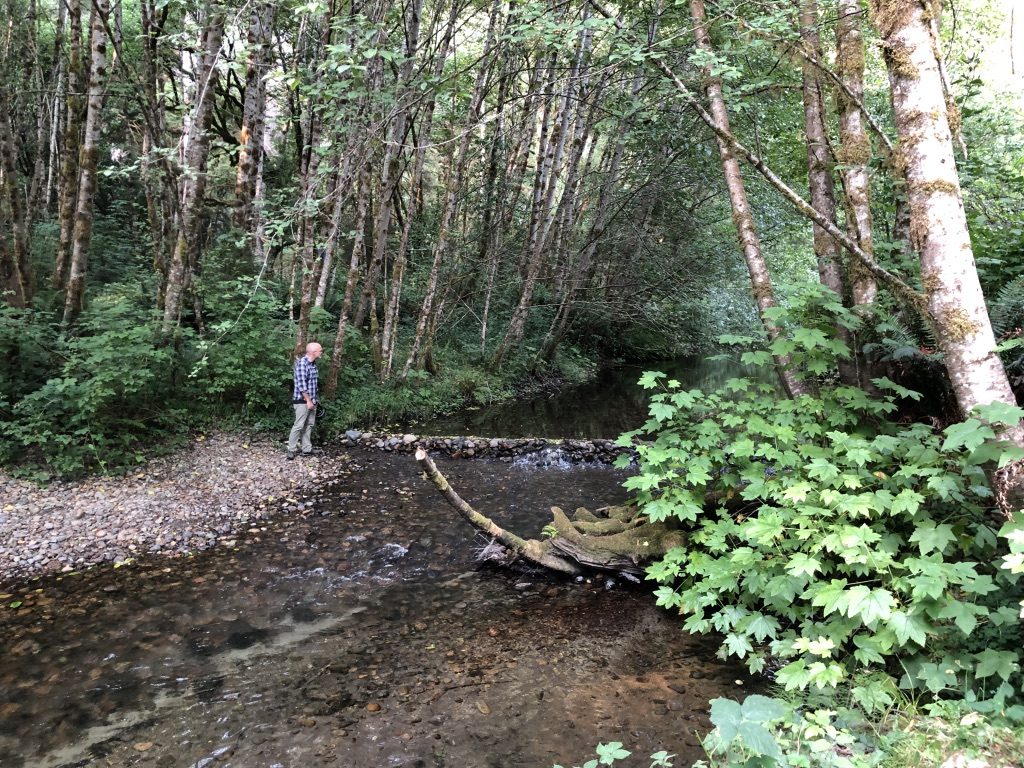 The next morning we had breakfast and then set off on our big bicycling adventure. (Little did we know just how big an adventure it was going to be.) There was a trail that went in a big loop around the area, so we first headed south from our campsite. Quickly, the wide trail narrowed and was a little dicey for our commuter bikes, but we carried on.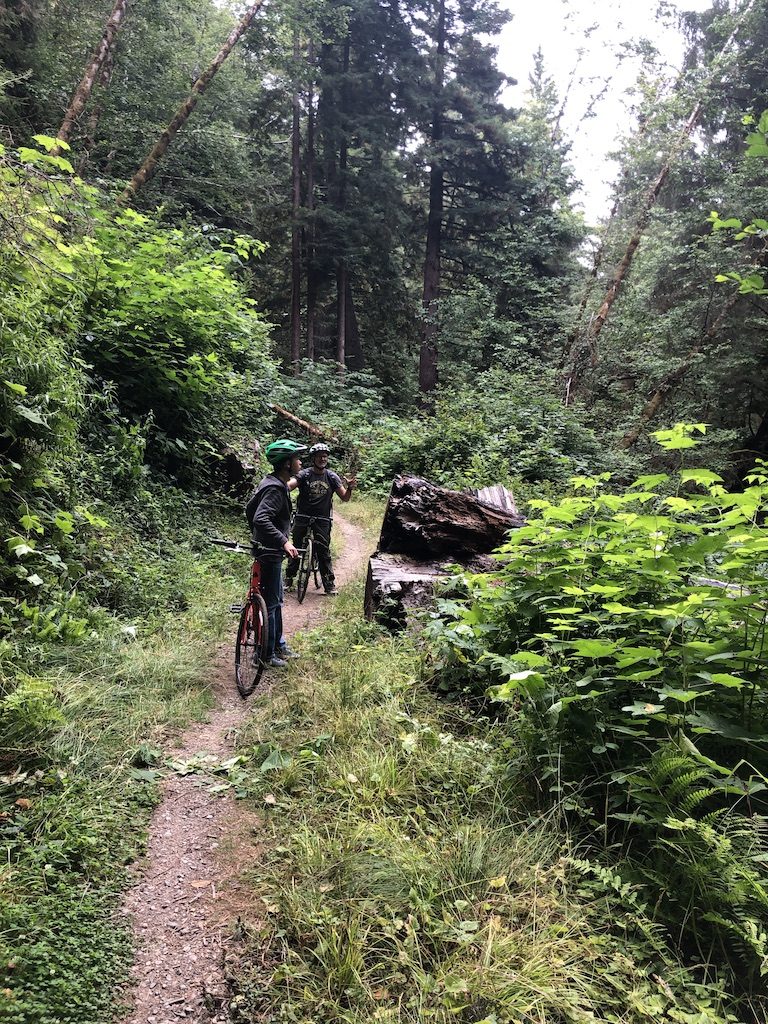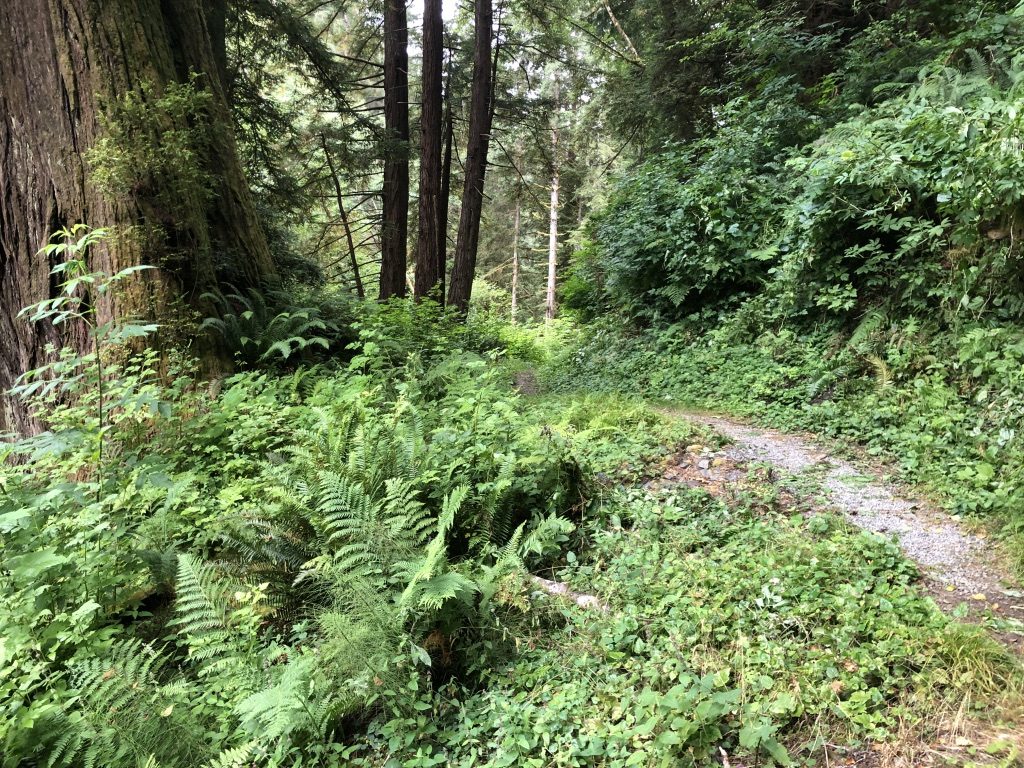 After a while, the narrow trail led to a wider road.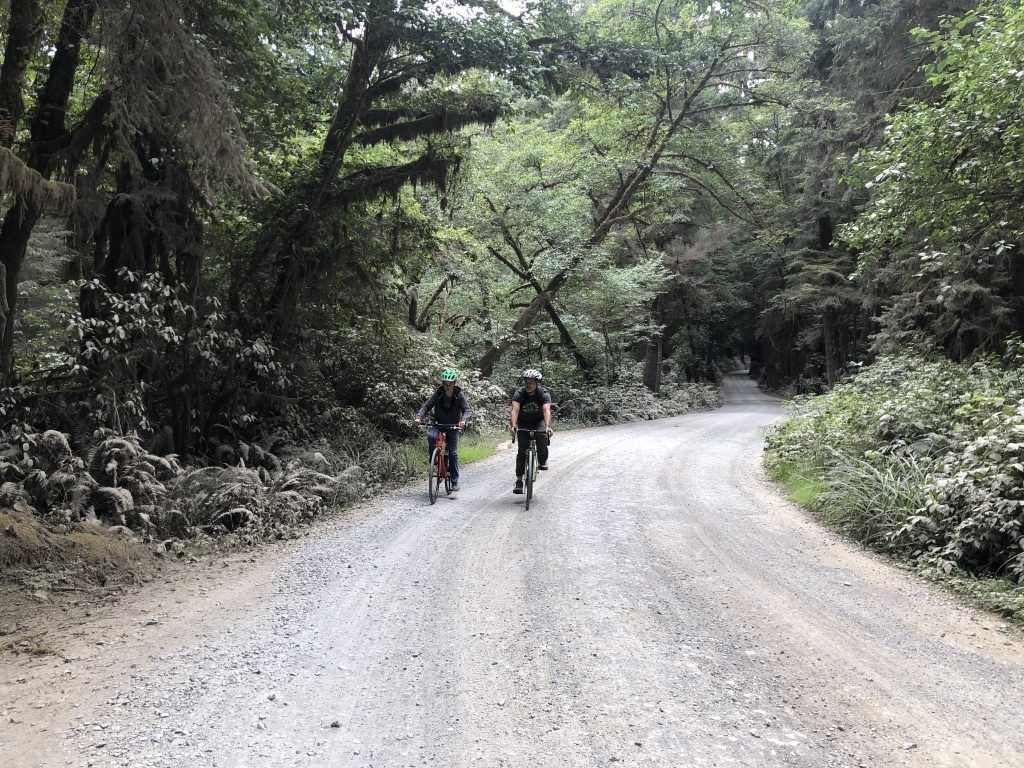 And then finally, we could see the ocean.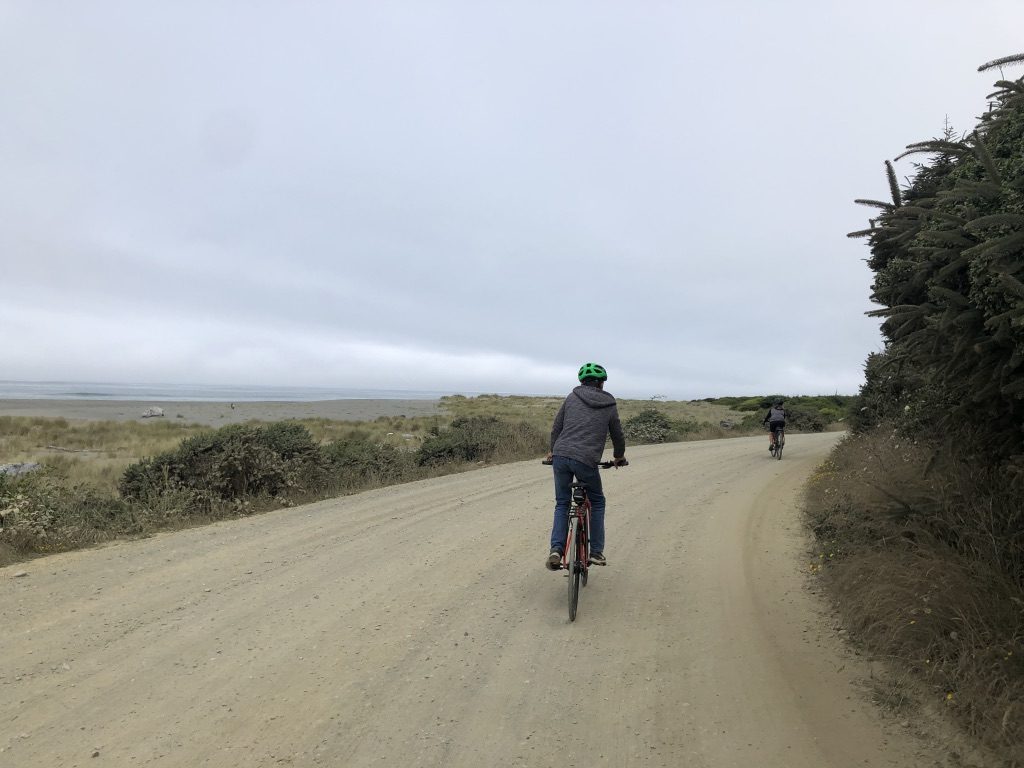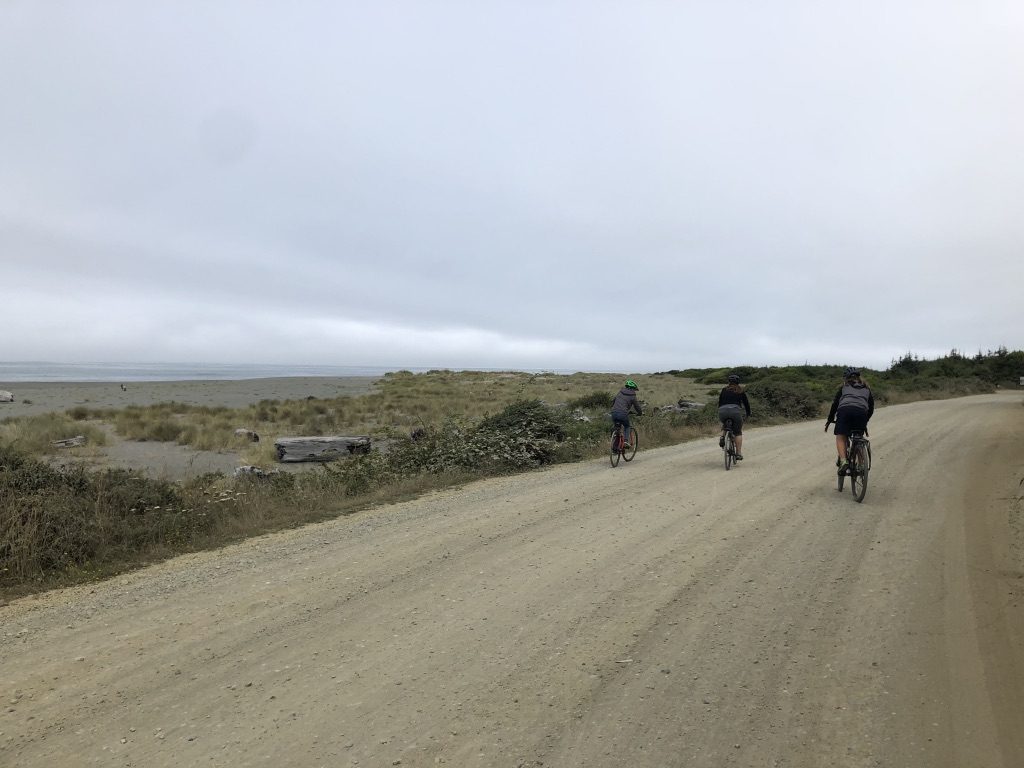 After a while on this road, we stopped at a campground for a snack/water break, and then we locked up the bikes and explored the beach for a while.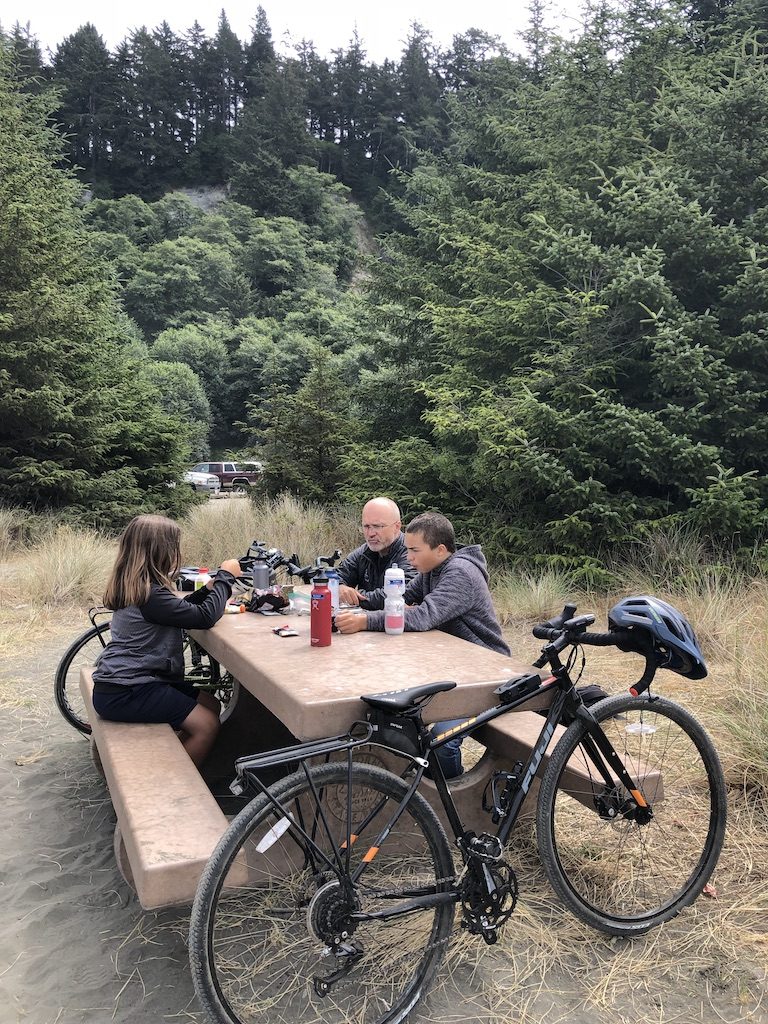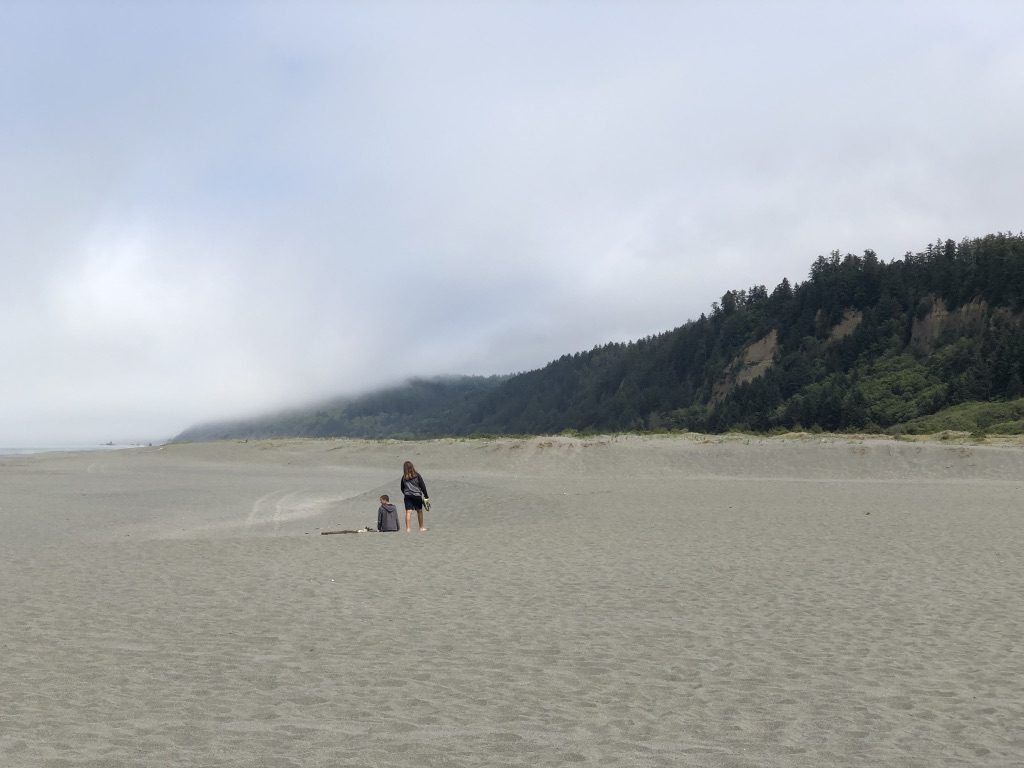 There were these huge sand dunes that the boys had a great time jumping around on for quite some time.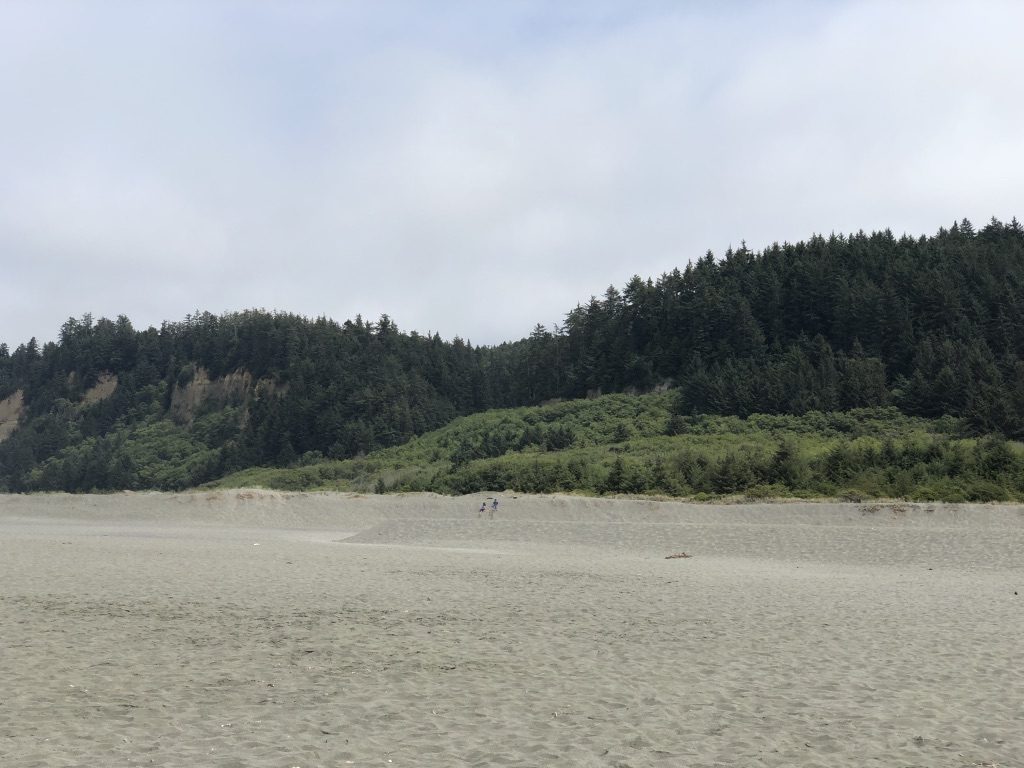 After a long time at the beach, we grabbed the bikes and sauntered off, thinking we would just pick up the road and keep going. Not so much. The road had ended, and the trail was nowhere to be found. Here are some shots of us exploring the area, trying to figure out which way to go.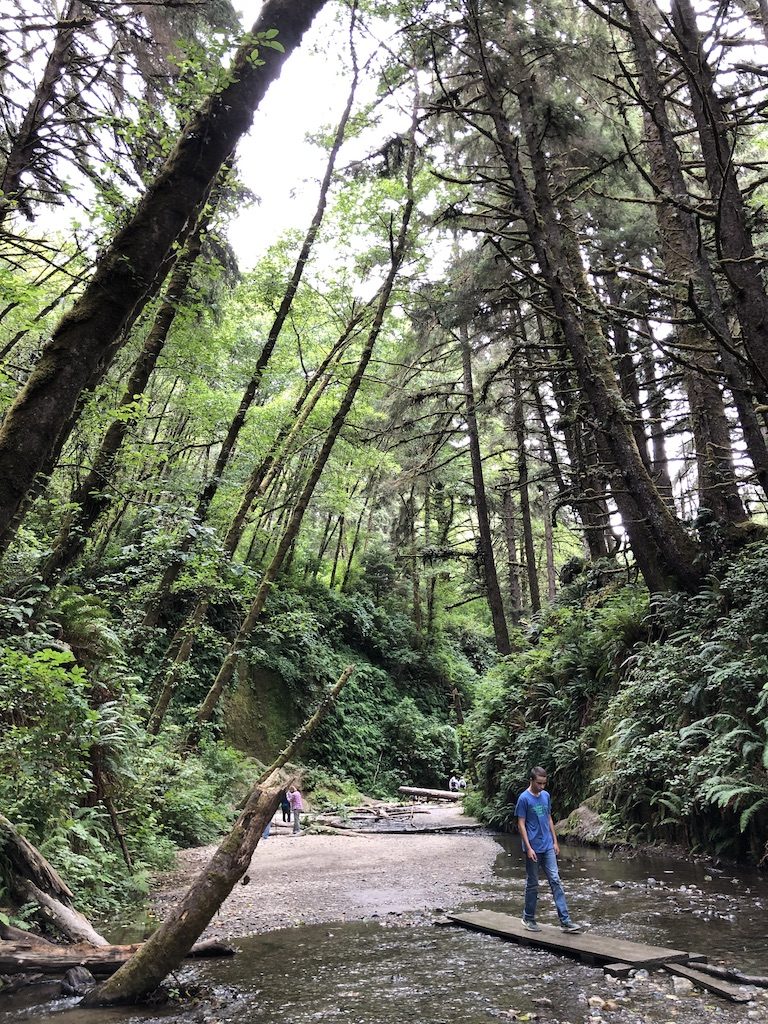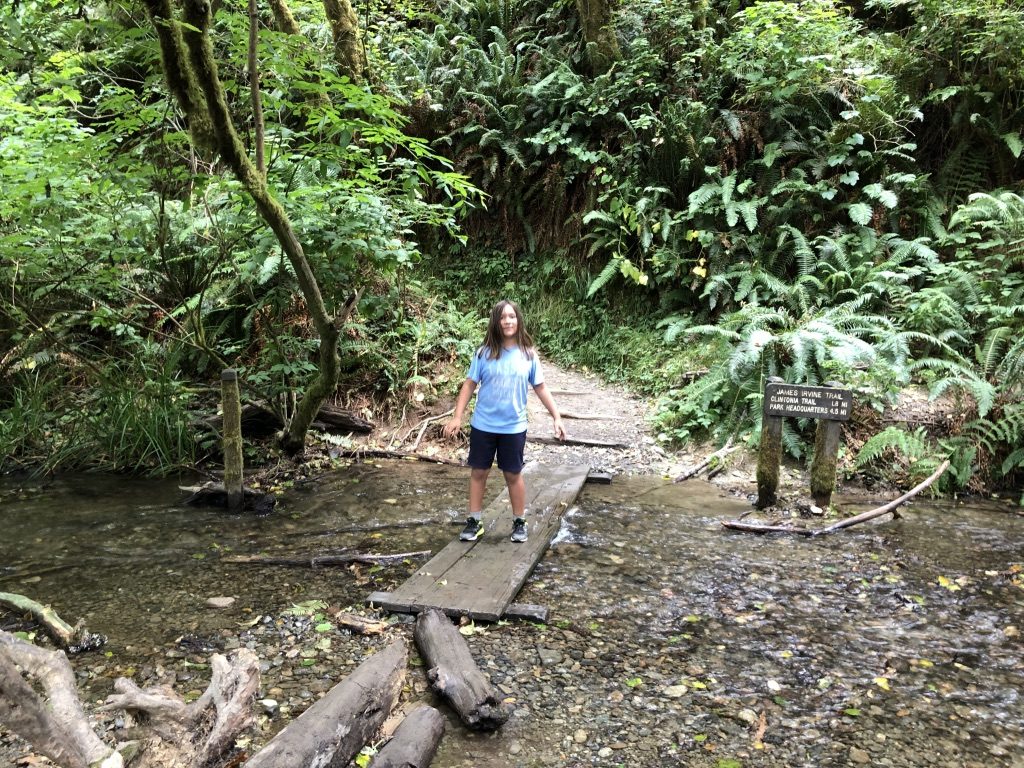 Finally we decided on a plan and we headed into the bog.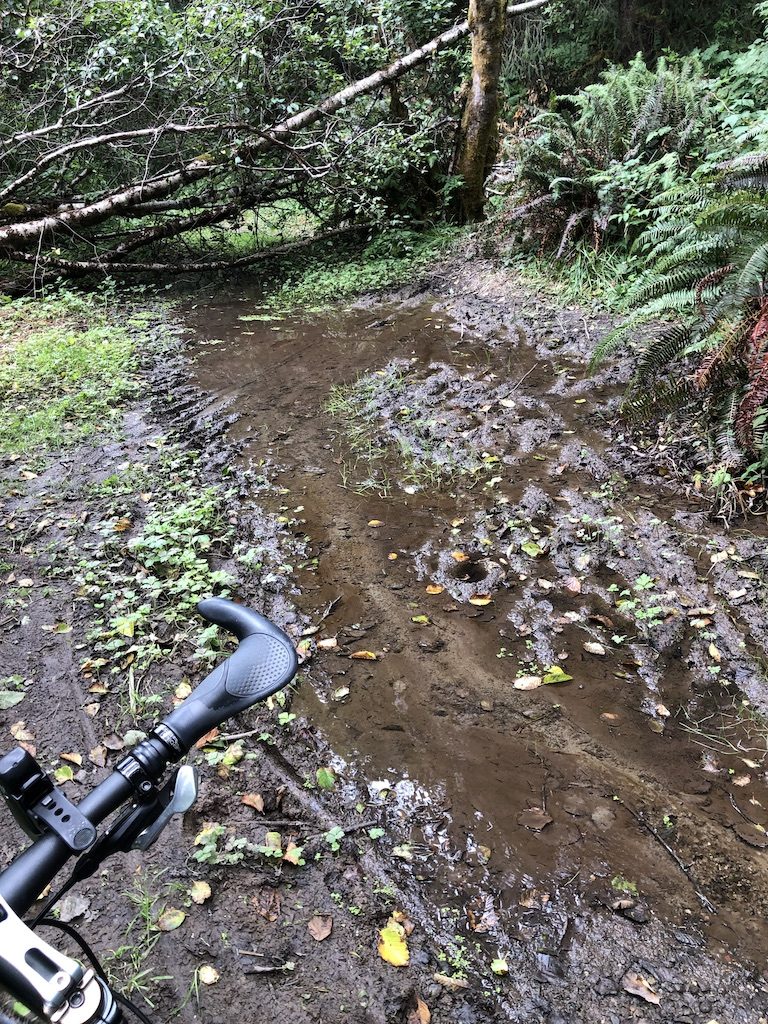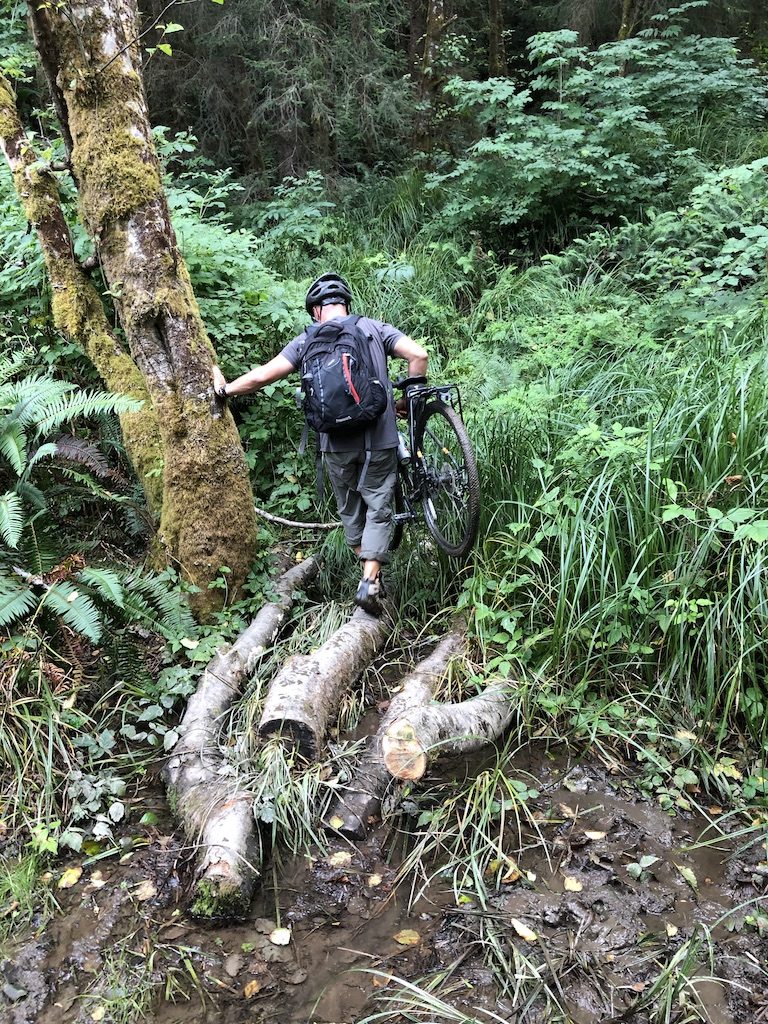 It was impassable on bike sometimes, and a little muddy. (Bruce got us through some parts by carrying the bikes.)
We finally made it out of the mud and it was spectacular.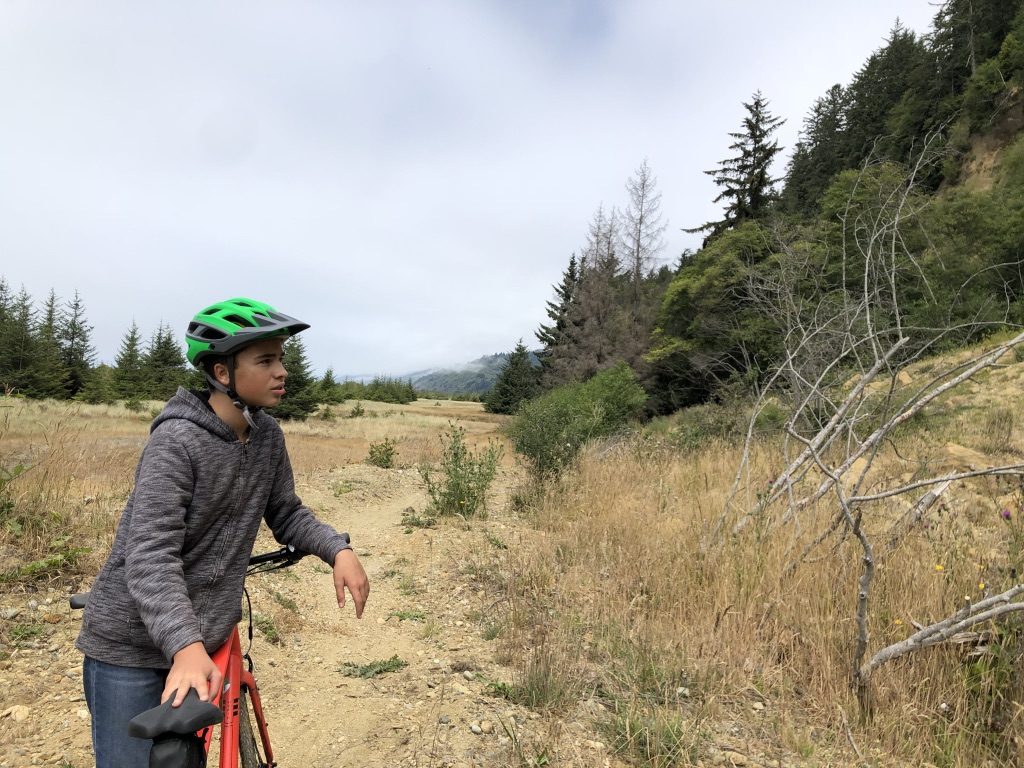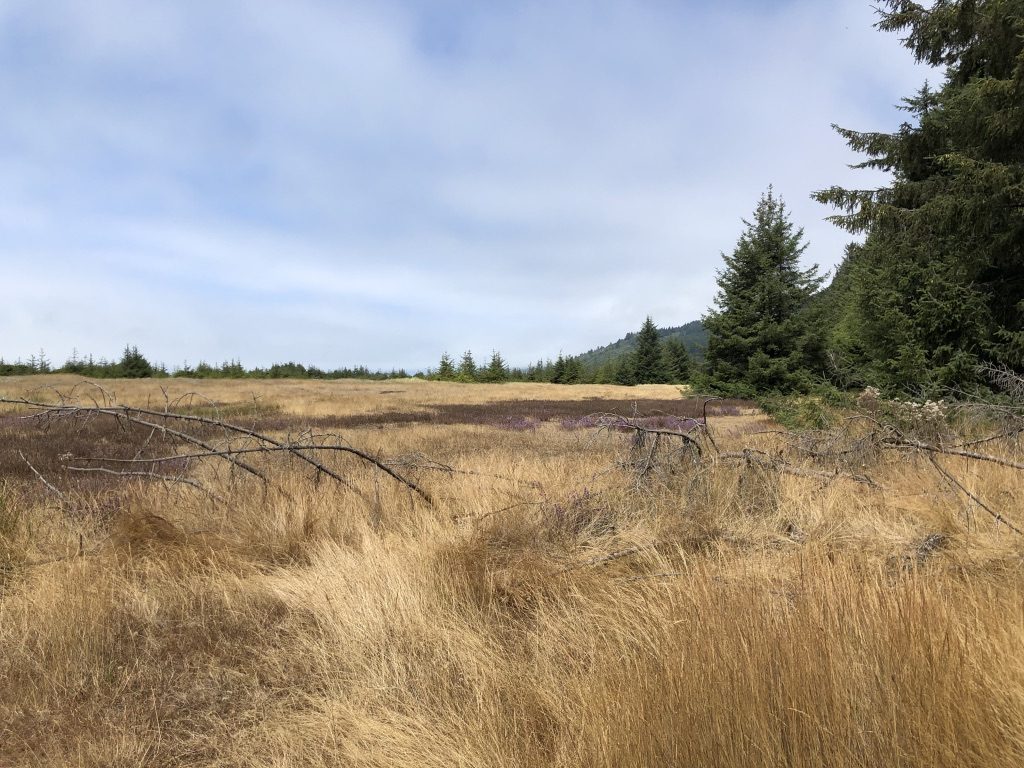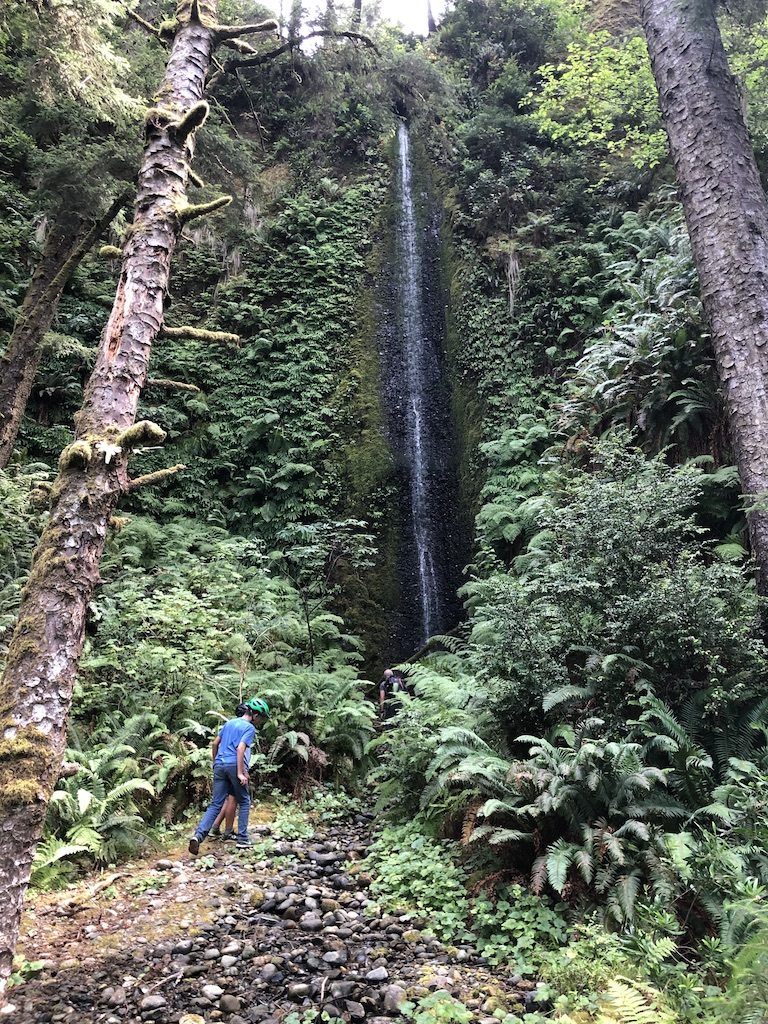 Although still rough going …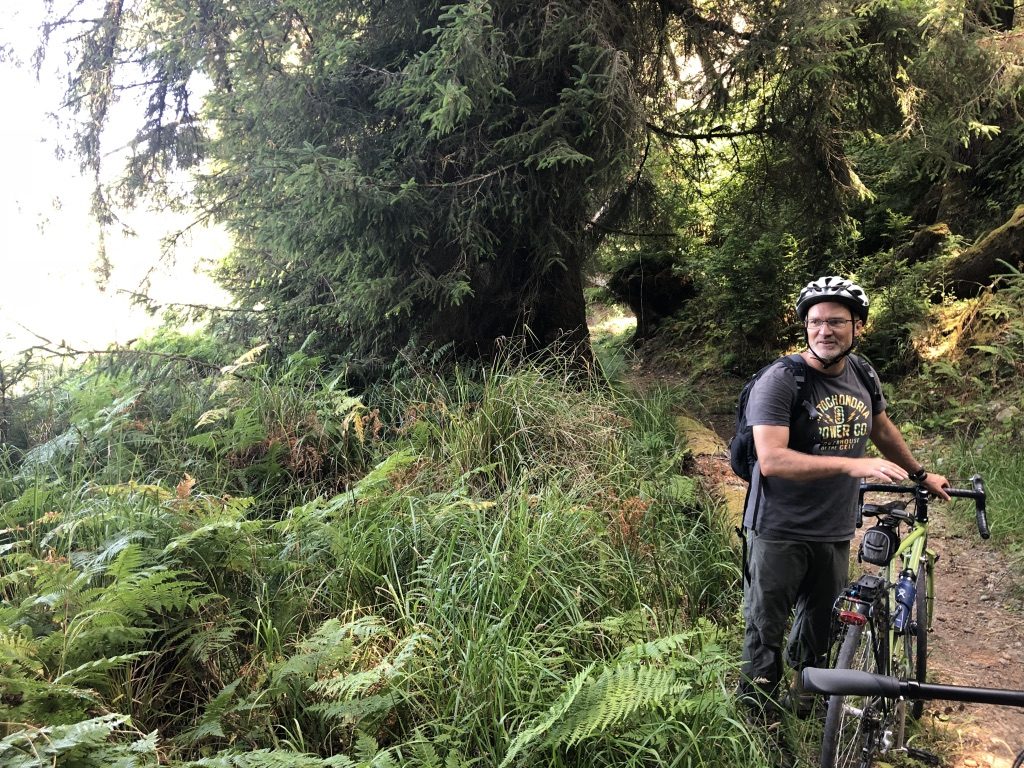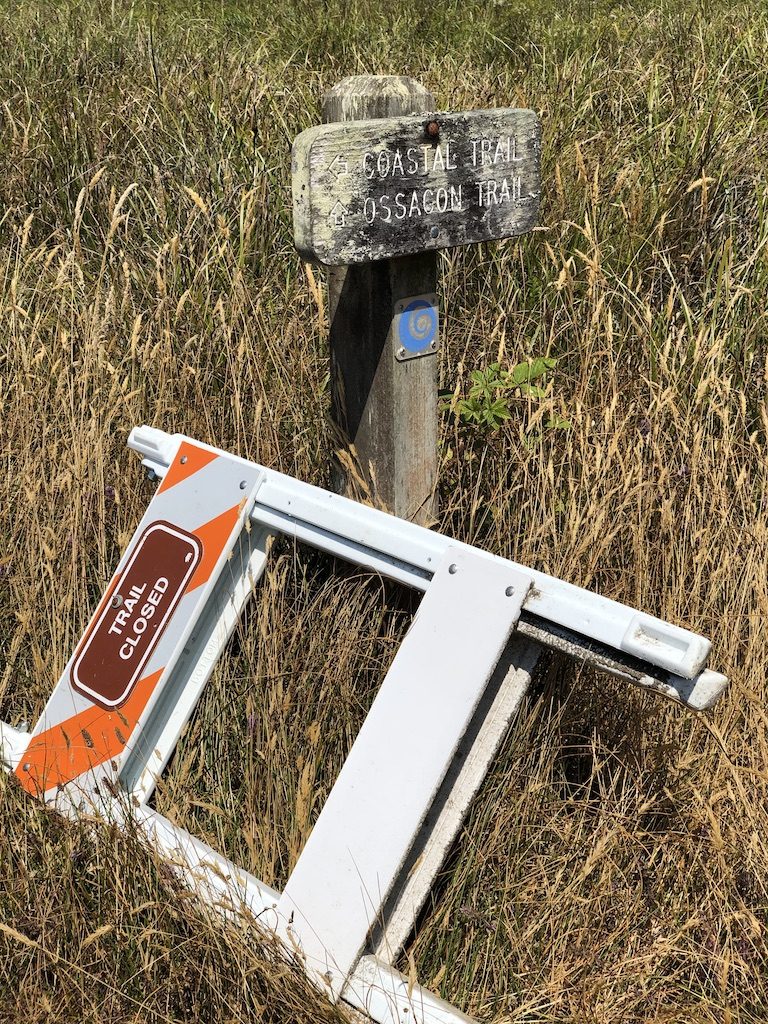 We didn't heed that warning though.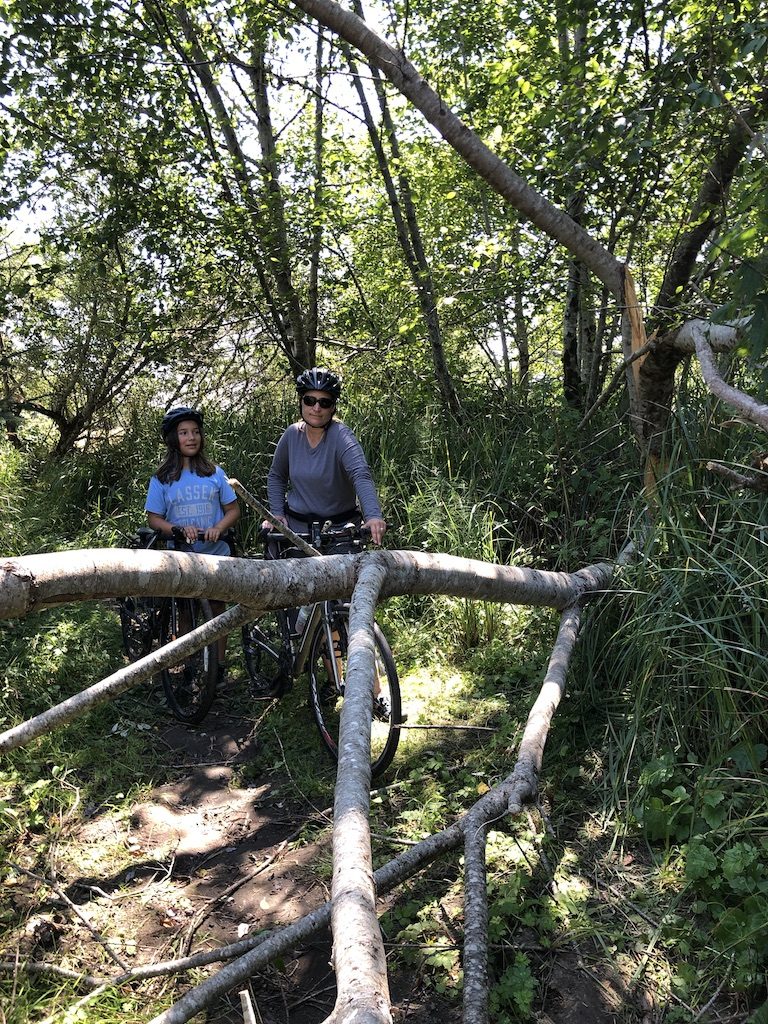 But Bruce got all of us and our bikes through that obstacle, and we trudged on. I hadn't really grasped the enormity of the elevation gain we were heading into (I'm a bit map-challenged), but at this point, it was either keep going (and we were pretty sure there'd be a big payoff at the end with a scenic downhill), or turn back and go through the mud again. We kept going forward.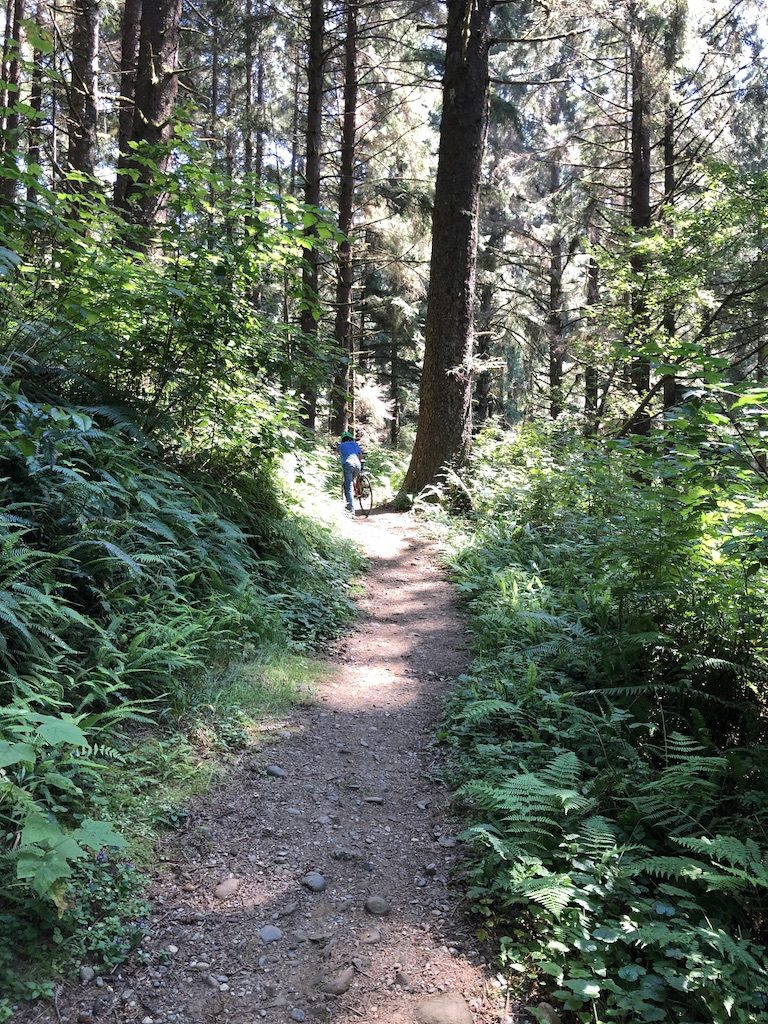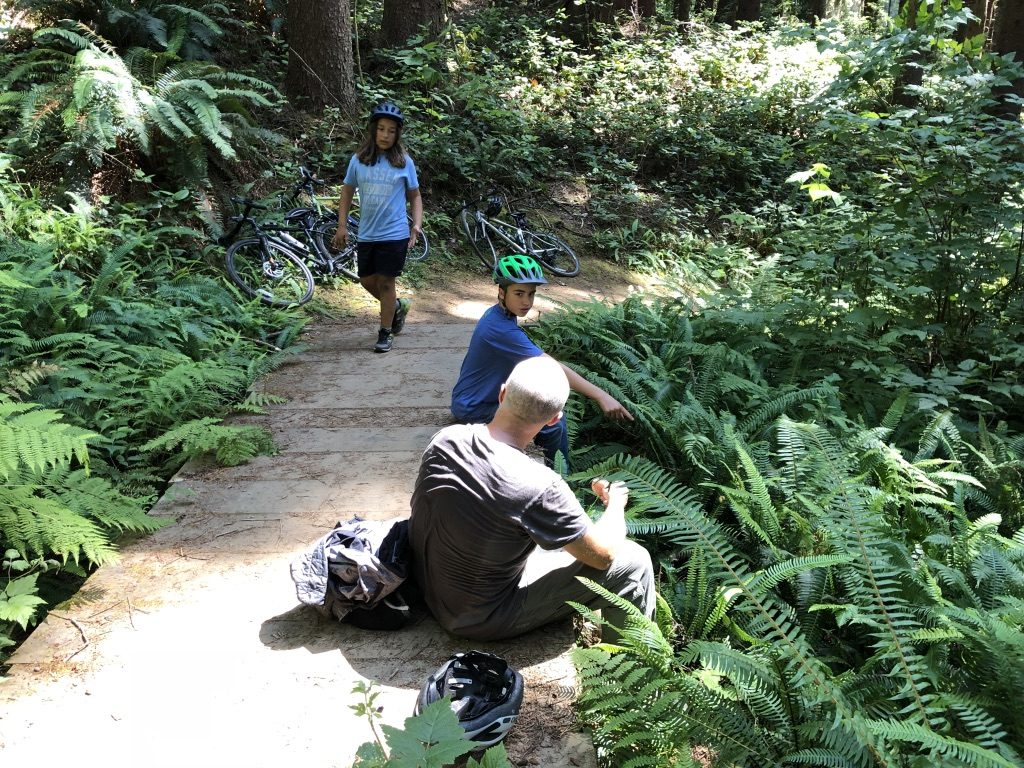 Finally, we made it to the other side. This is the last photo I took — the entrance to the trail we'd just completed. At that point, we had a glorious downhill ride down the paved Newton B. Drury Scenic Parkway. We didn't stop, just enjoyed coasting down among the giant redwoods.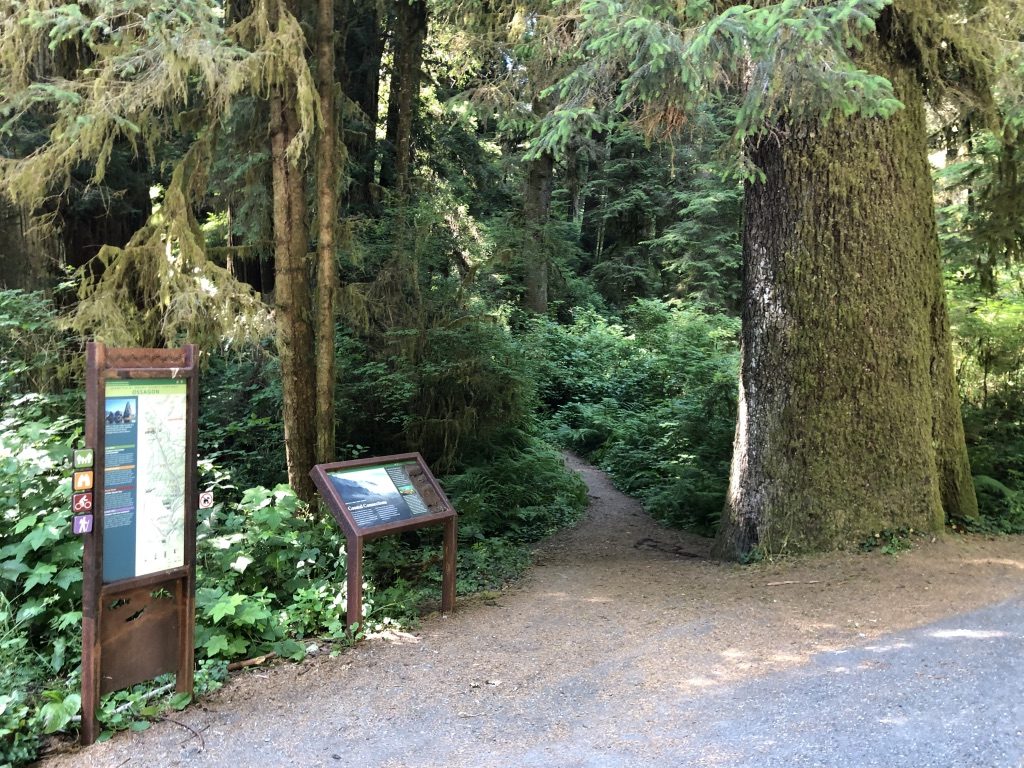 Our final tally according to Strava was 19.6 miles, 1868 ft elevation gain, and 3 hours 10 minutes. Here's a shot of the map.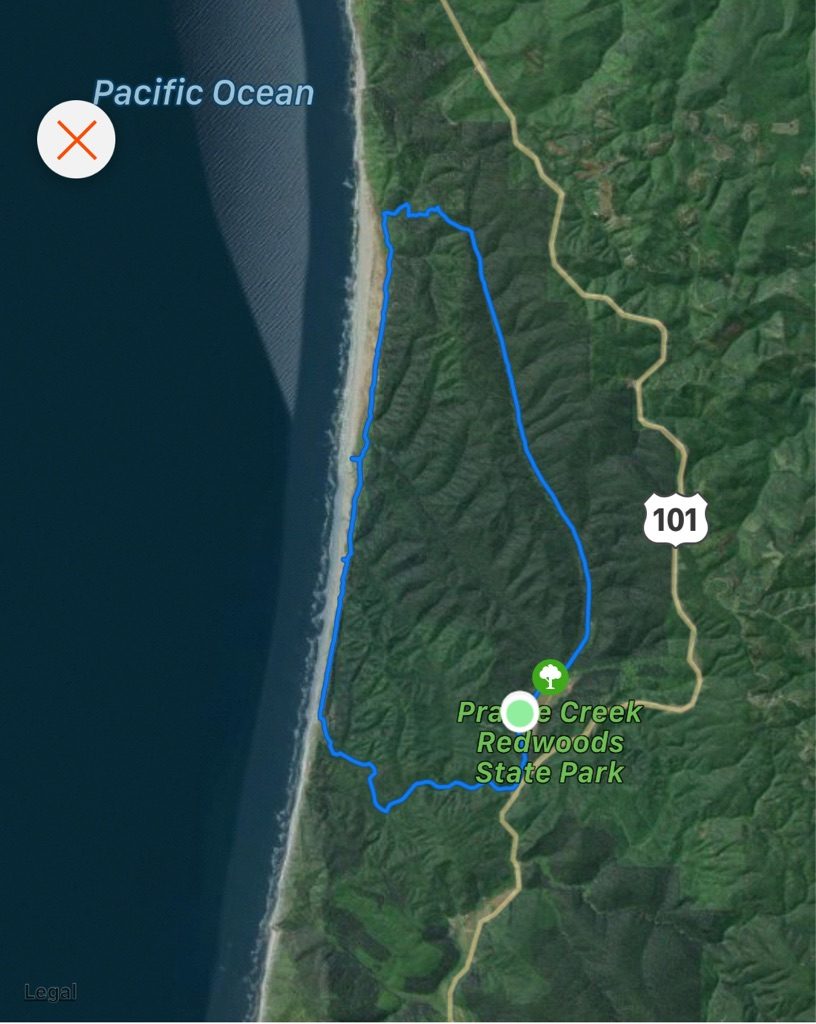 After that adventure, we had a well-deserved relaxing afternoon/evening at the campsite, enjoying the last of our chocolate and a hotdog camp dinner.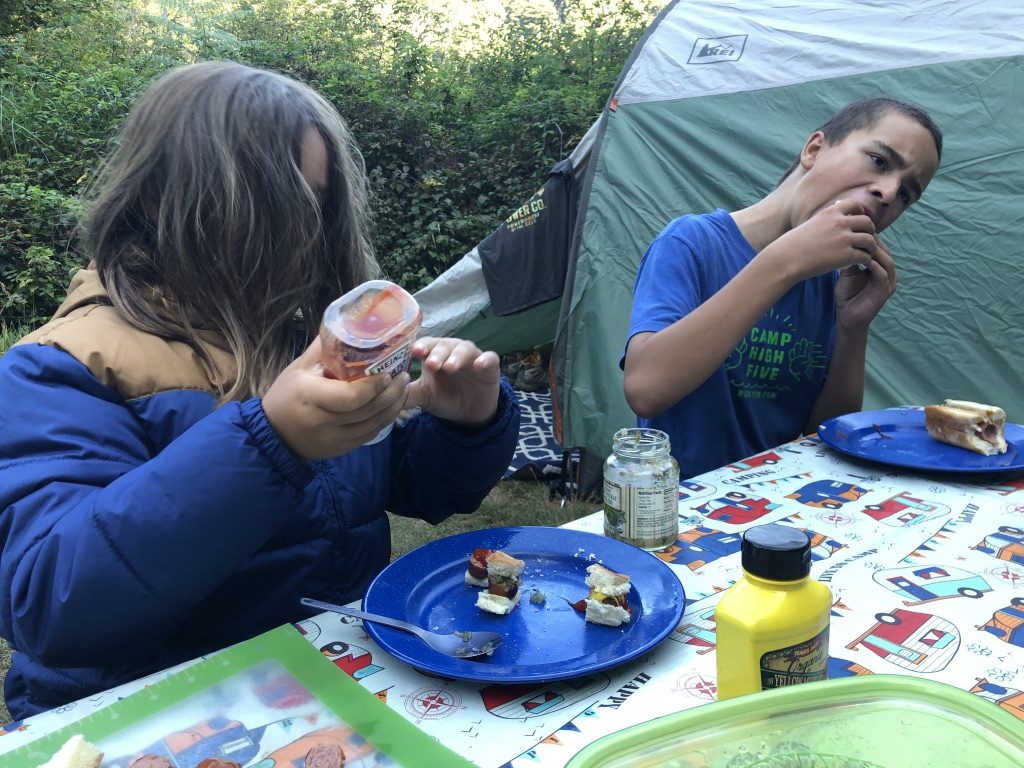 The next day we'd booked a joint mountain biking and kayaking trip at the Jedediah Smith Redwoods State Park, about 30 miles north of our campsite. I'm so glad that Bruce pre-booked this trip, because we were all pretty worn out from the previous day's biking and we might have canceled otherwise. It turned out to be a spectacular day. We woke up to a gorgeous morning at the campsite to get us going.

And the Smith River and surrounding park were breathtaking. Once we met our guide and got our bikes, we were off. The biking was actually mostly on roads and not very strenuous (which was fine with all of us on this day!) and we stopped a couple of times to walk through the woods and explore the area around the Smith River.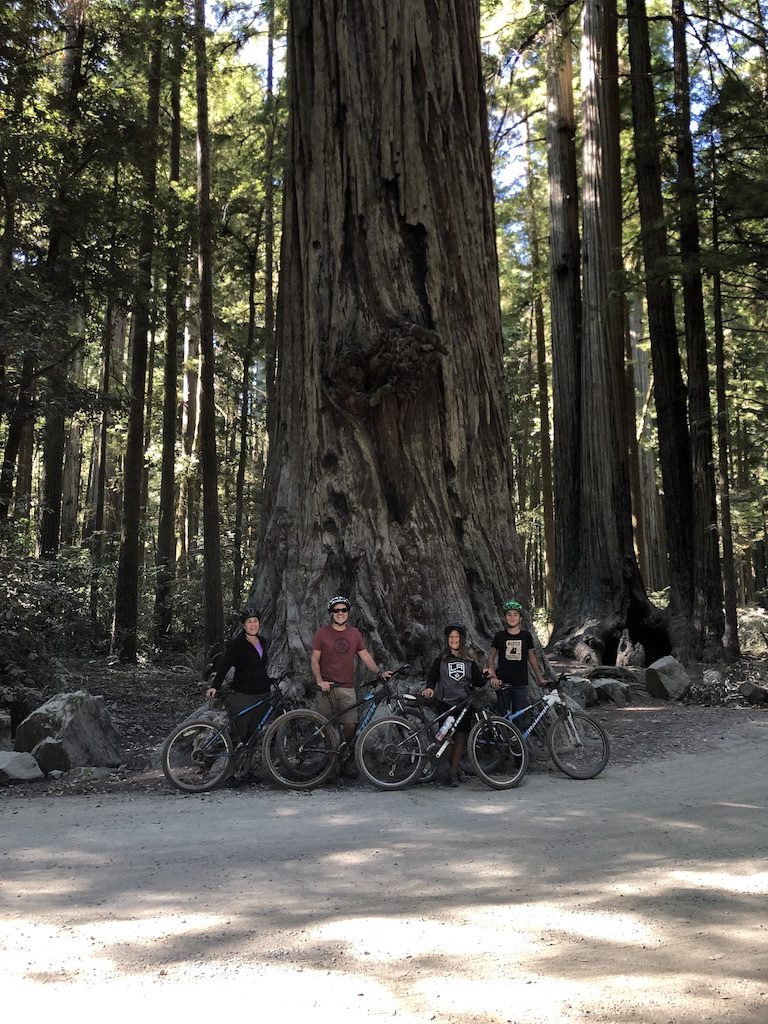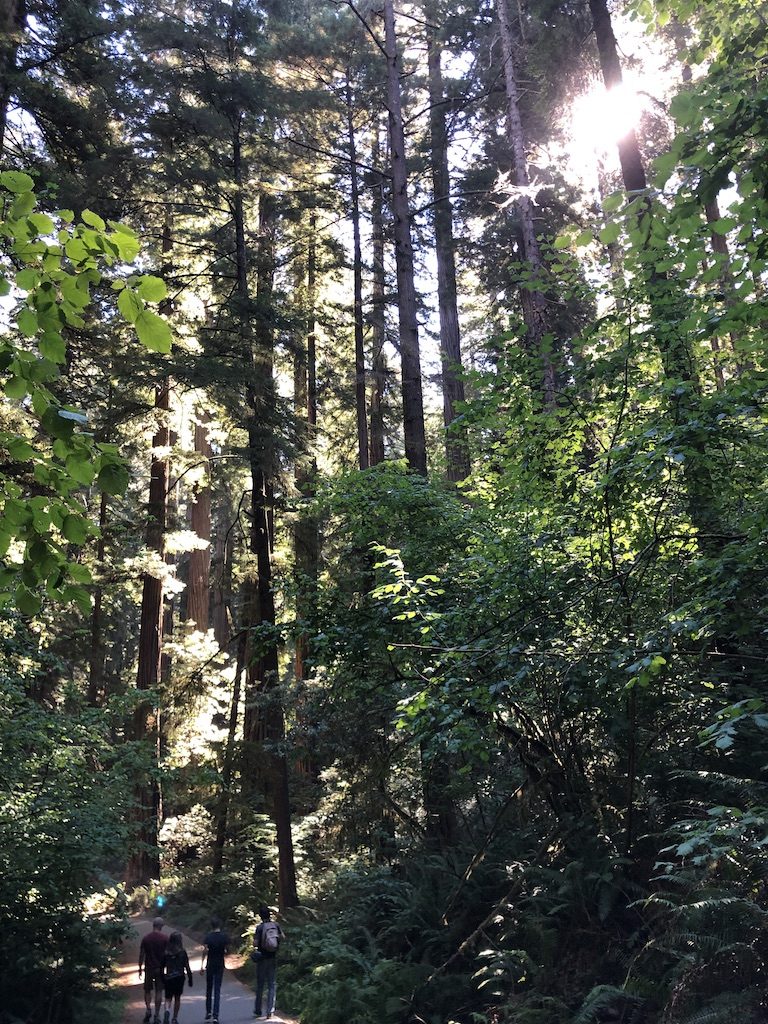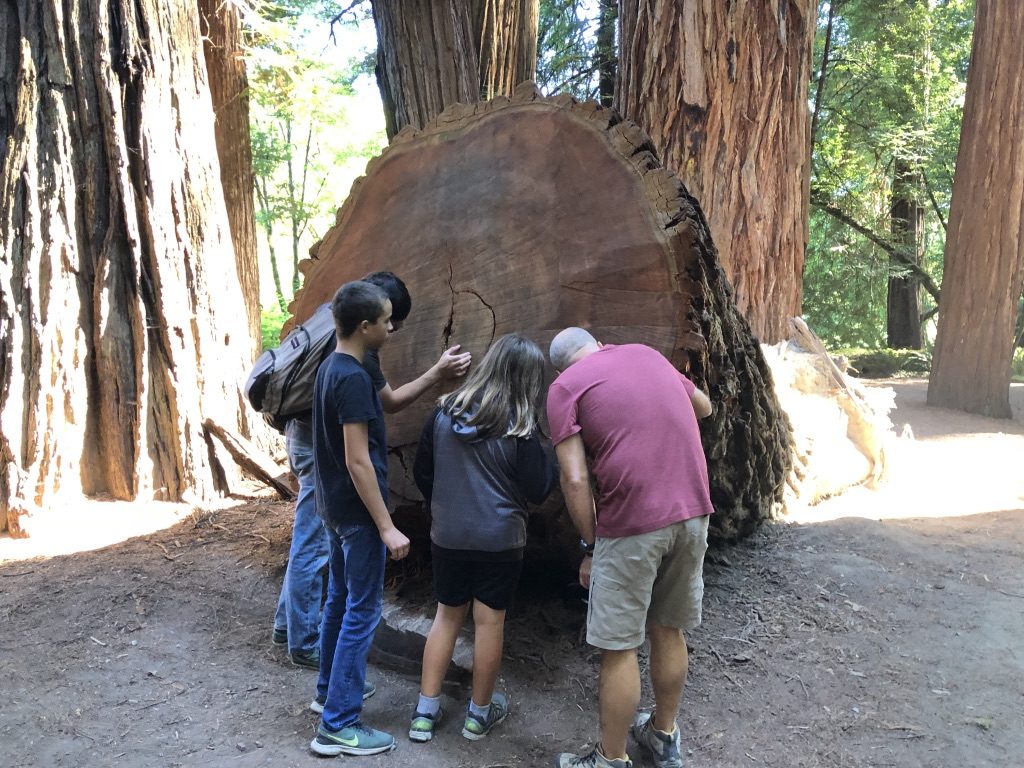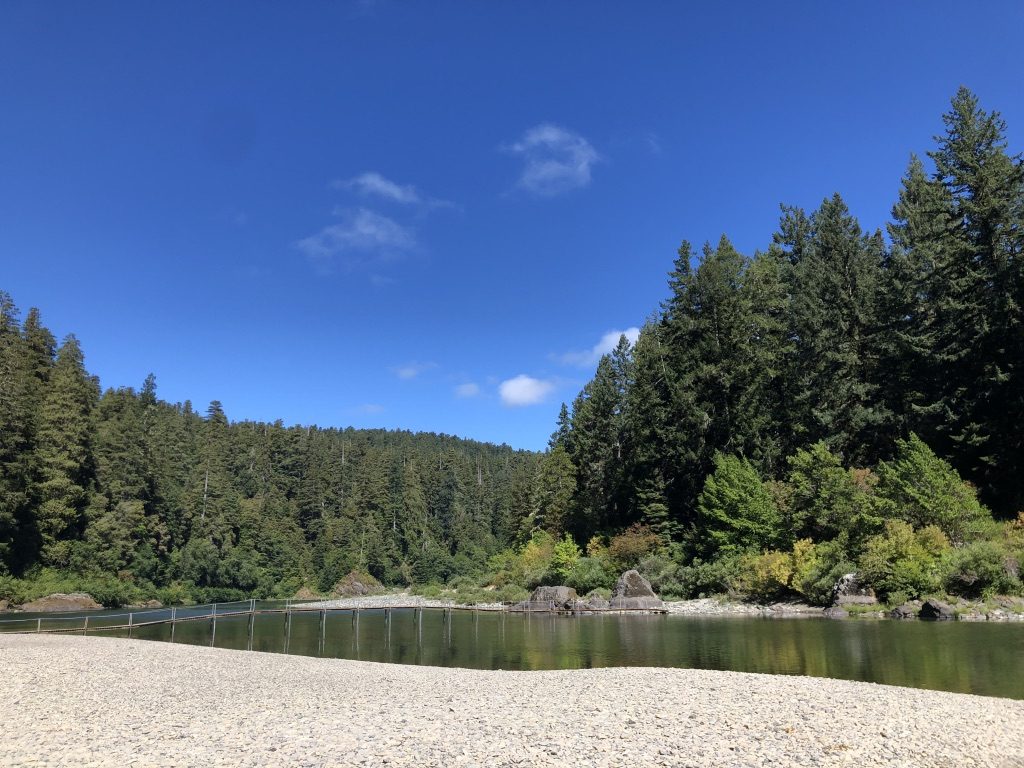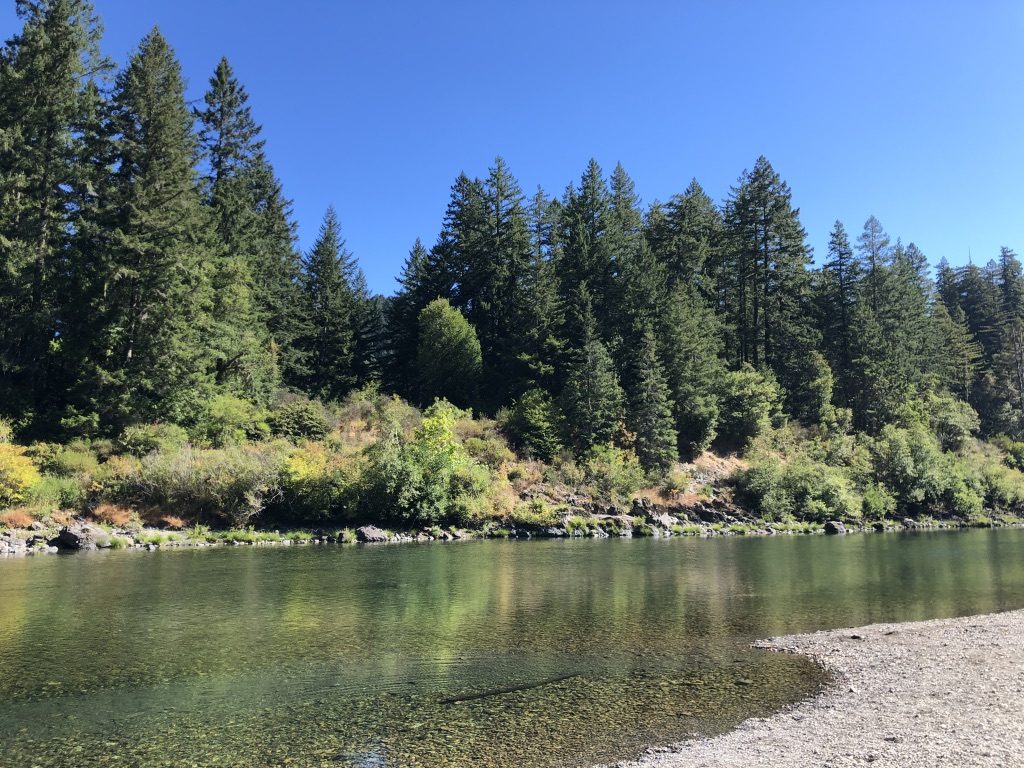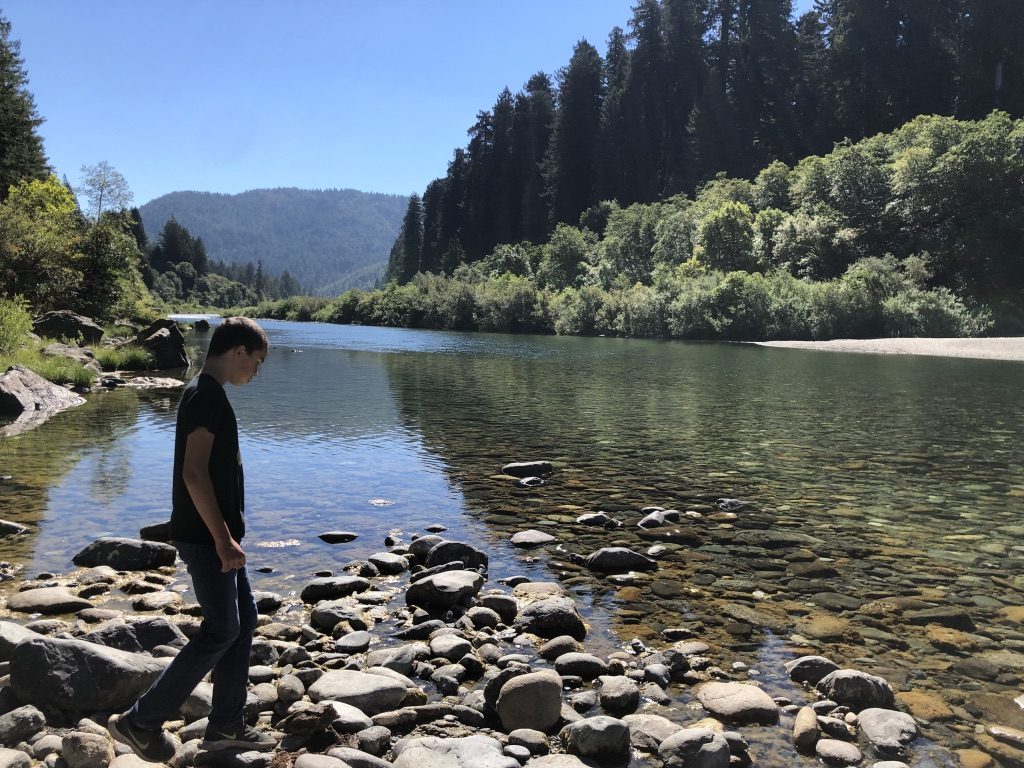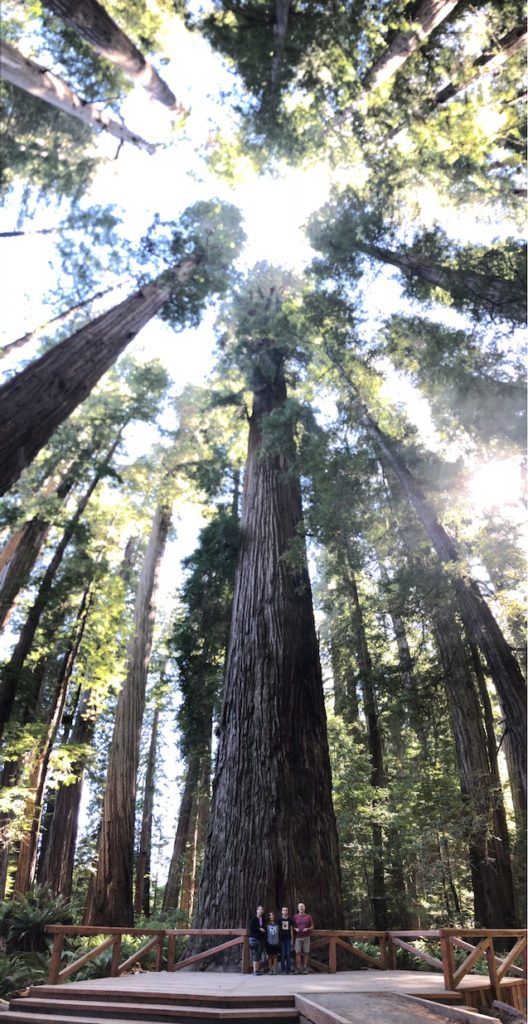 The end of the biking part left us at the Smith River, where we puttered around for a bit, picked blackberries, had lunch, and then kayaked down the river to where we'd parked our car.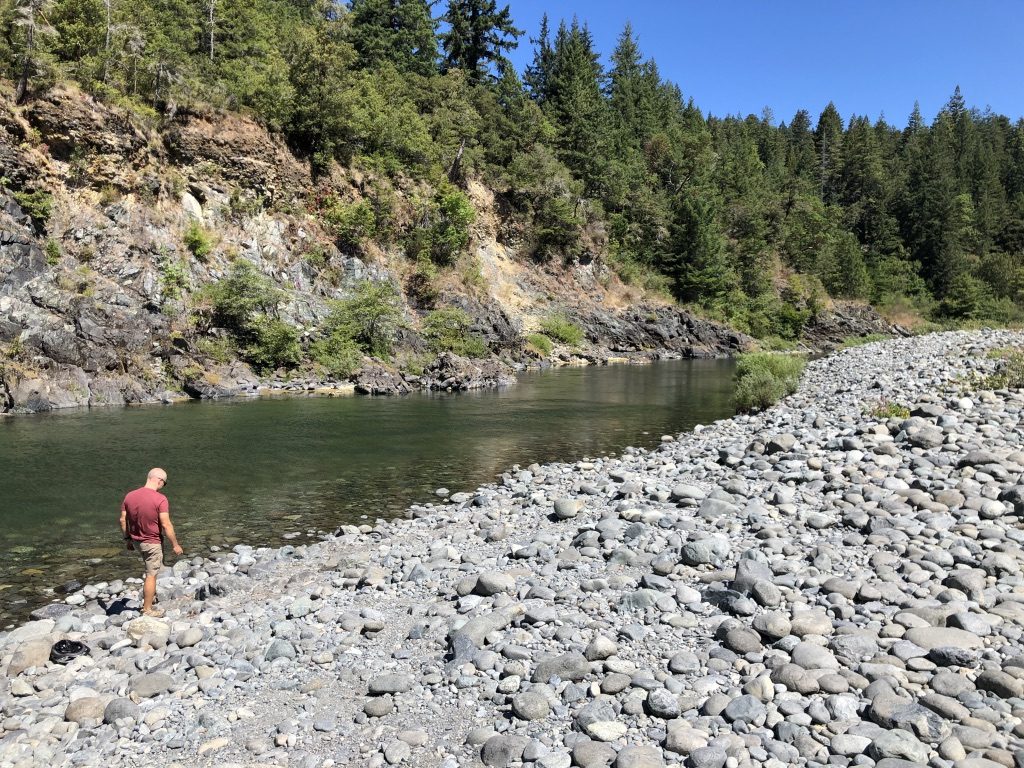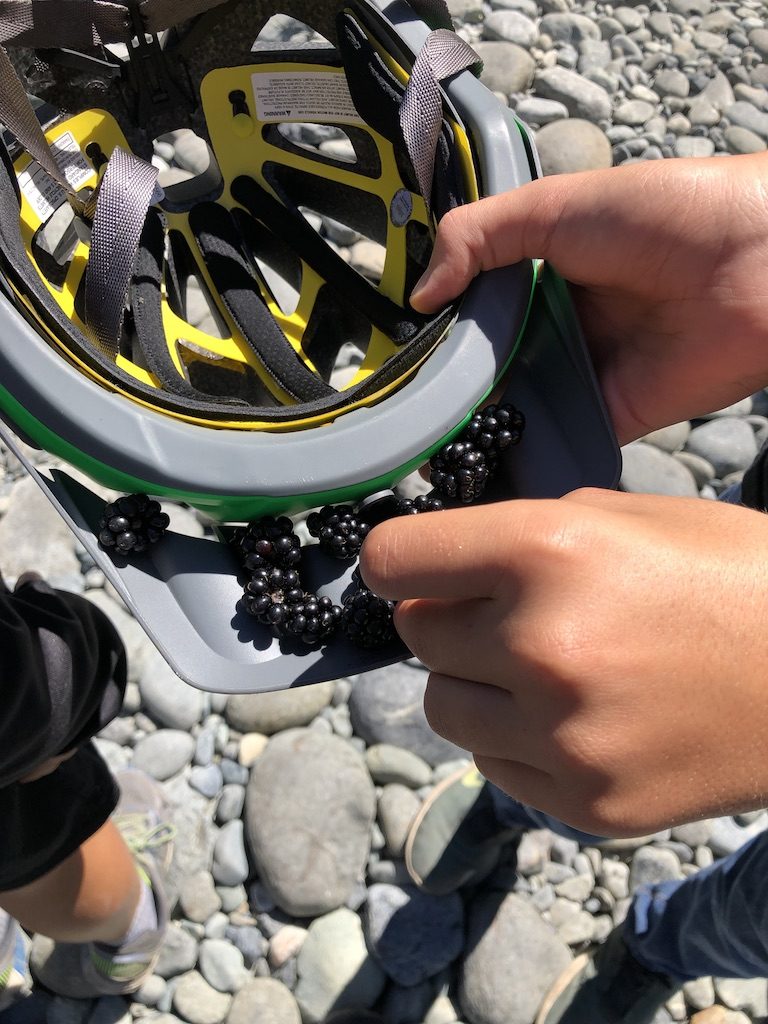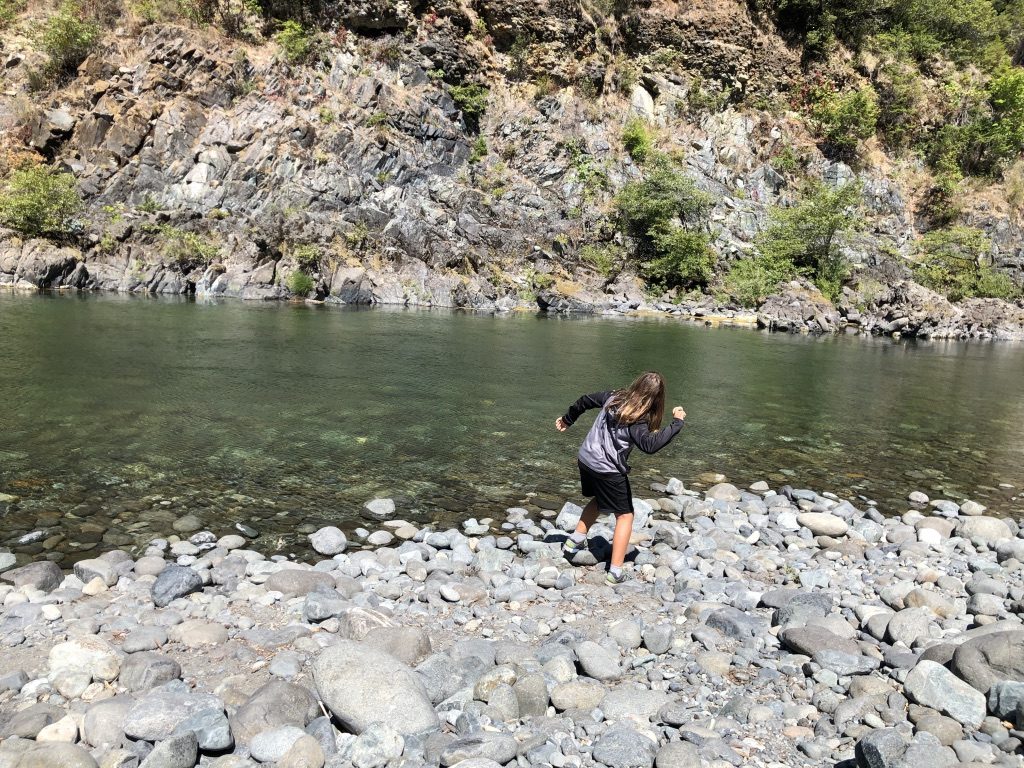 It was the most beautiful day with the bluest sky I can ever remember seeing.
Finally, the kayaks arrived and we got ready for the last leg of our journey. I don't have any photos from the kayaking itself since my phone was in the watertight bin. It was super fun but a lot of work as these inflatable kayaks performed differently than other kayaks I'd used. But we all survived and enjoyed some mild rapids and more beautiful scenery.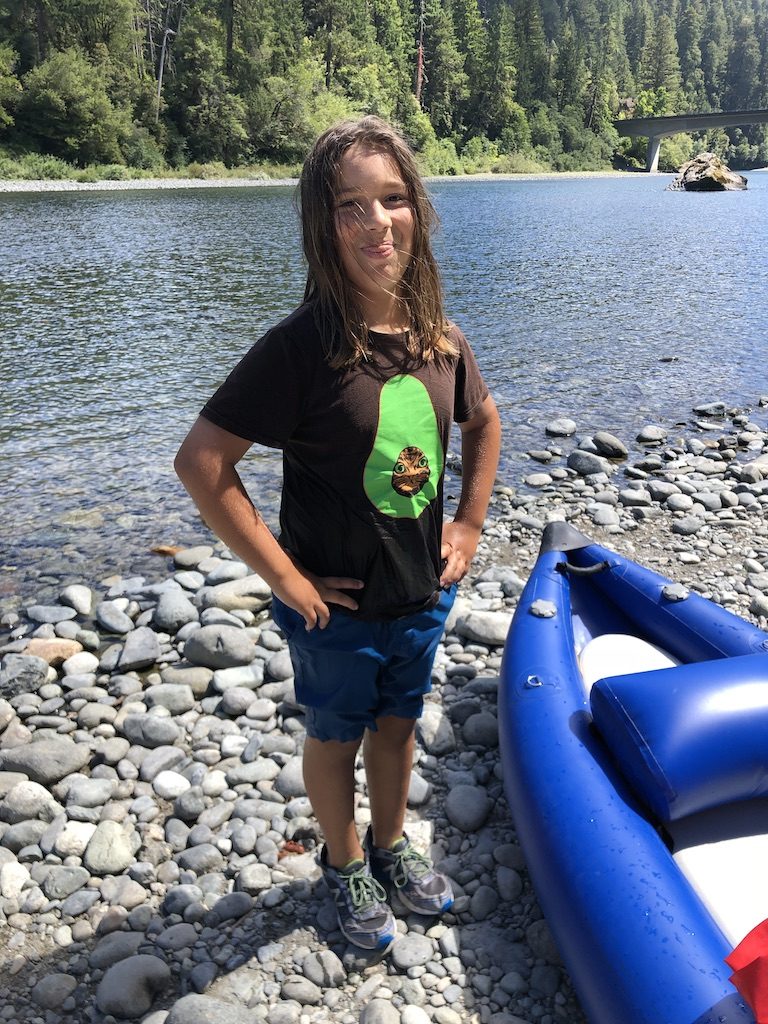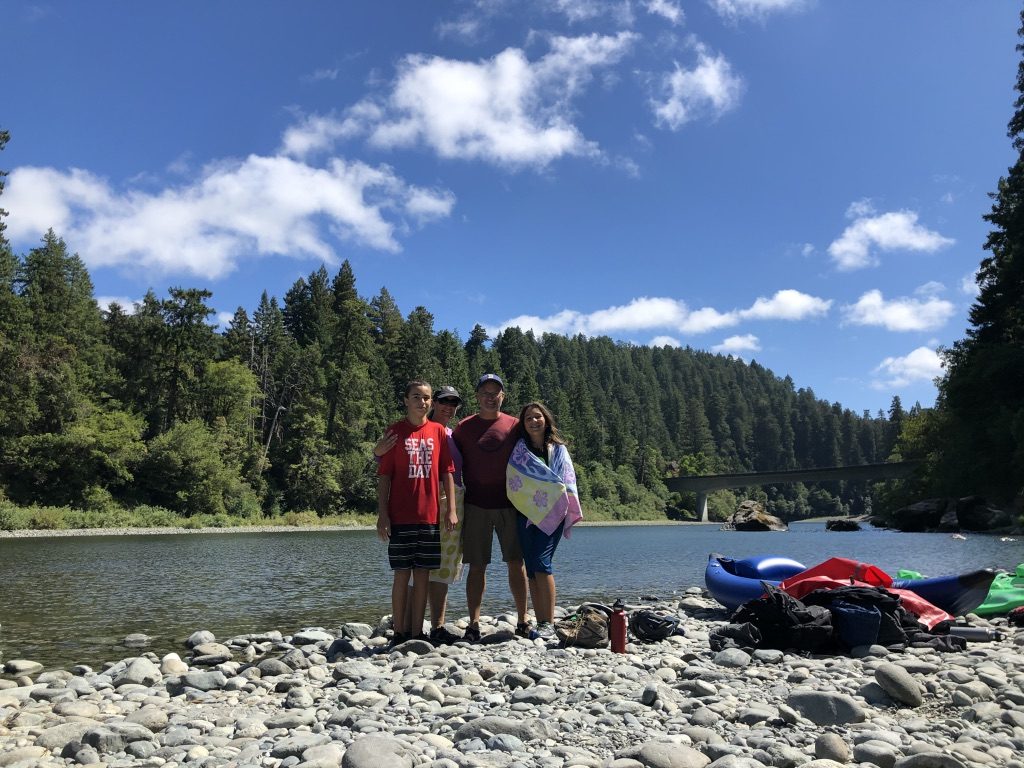 I'm thankful to our guide who thought to take photos of all of us. Such a rare treat to have the whole family in the photo!
After we dried off and packed up, we decided that since we were only about a half-hour south of Oregon we had to go since none of us had ever been there. Our guide suggested visiting Brookings, just across the border, and so we did. We managed to stumble upon some crazy pirate festival thing, so we picked up some ice cream cones and roamed around for a bit.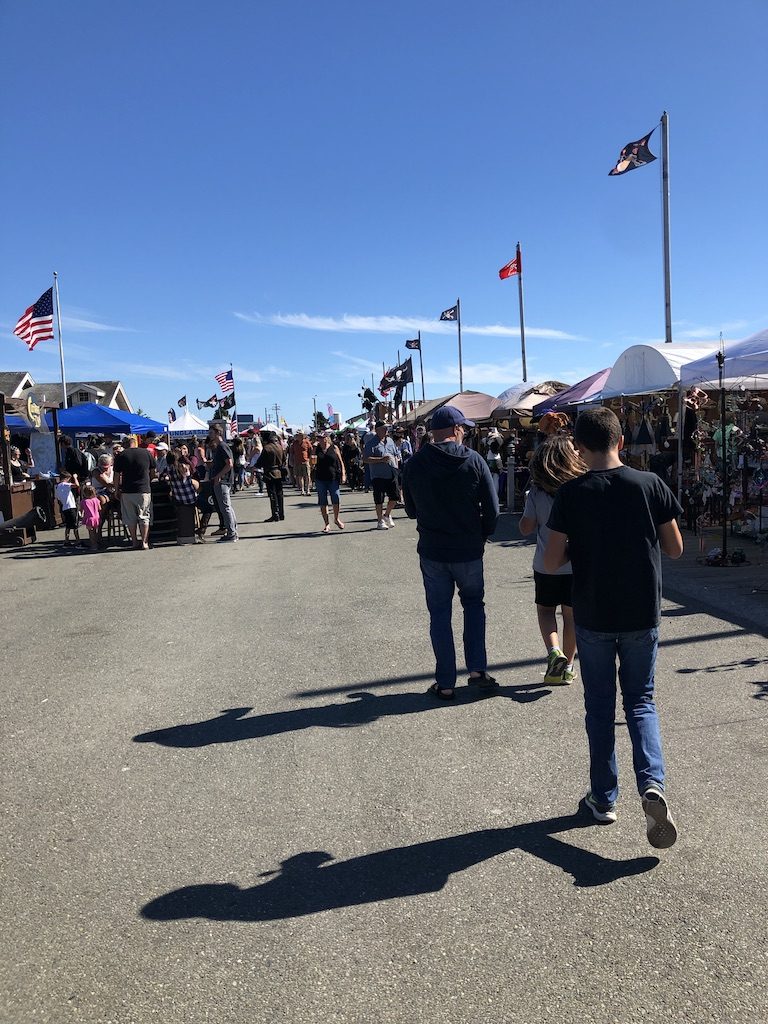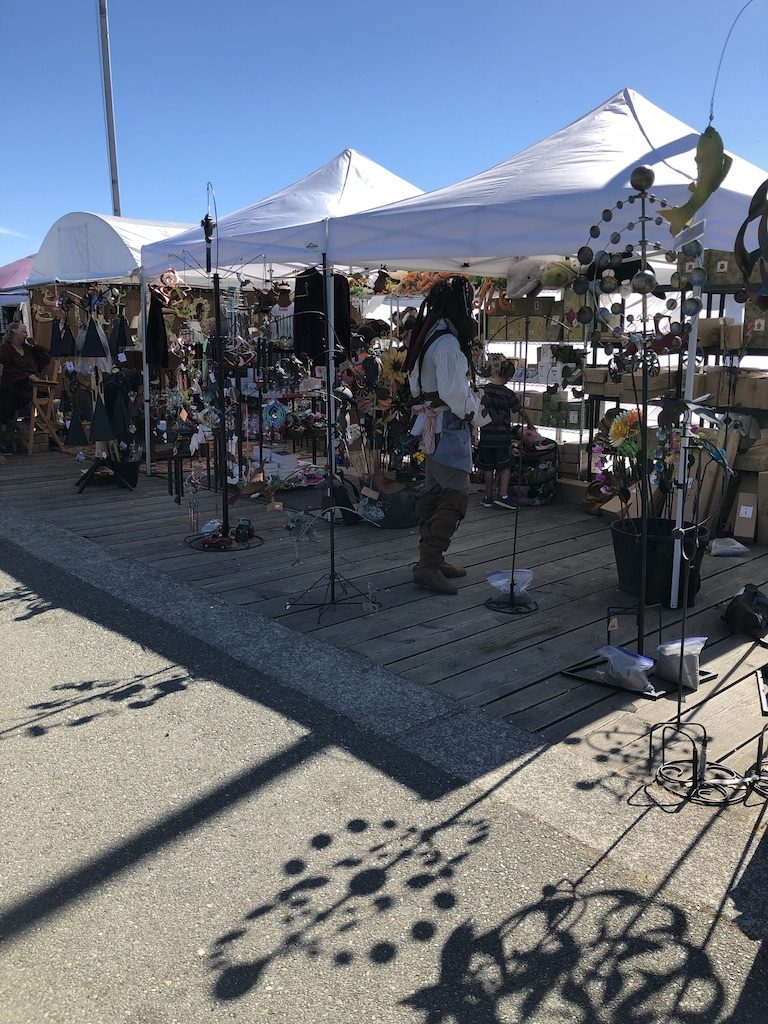 I don't remember much about the evening after the Smith adventure, probably because of exhaustion. What a day!
The next day we packed up and headed home. I can't even remember if we made any stops on the way back, other than the Bluebird Cafe in Hopland where we had lunch. (It was good despite the Trump banner in the window, which I didn't see until we were on our way out.)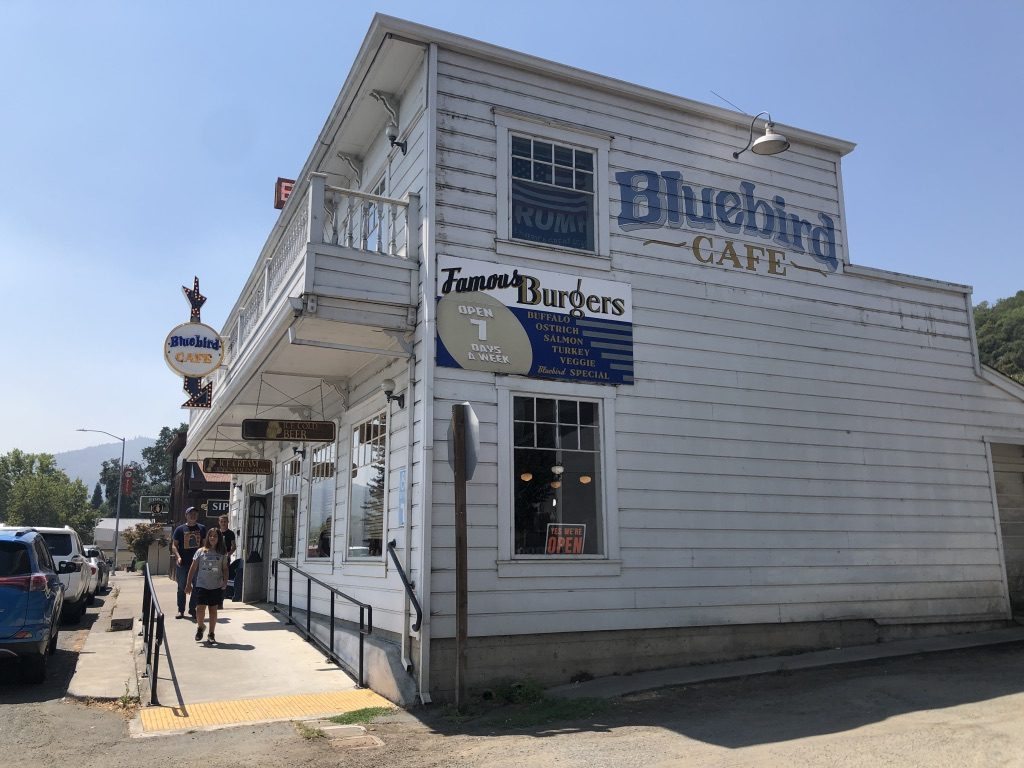 We had a day to recover before school started. Really, I think this may have been the best camping trip we've been on, both relaxing and adventurous. I'm so glad we were able to fit it in before the chaos of the school year started.